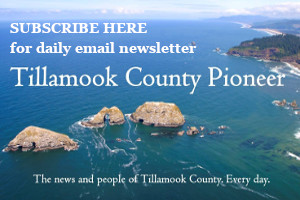 By April Bailey, for Tillamook County Pioneer
Cloverdale has gained another farm themed business, Menefee's Feed Wagon. Located across from the bridge and the post office, at 3445 Hwy. 101, Menefee's features a café with the only drive-thru in town.
Menefee's is owned and operated by Lisa and Mark Menefee and Chantell Braun, Lisa's daughter. Lisa had previously owned a café in the same location in 2012, the Back Country Café. Lisa worked the café for about a year, but needed to relocate to the Willamette Valley for family reasons. By the time Lisa returned to the Cloverdale area, the shop had been converted to a Mexican eatery ran by another local family. When that family decided to not renew their lease of the building, Mark began to sell his dream of operating a café to Lisa.
Lisa said, "This was Mark's dream, really. I had been there and done that." Mark wanted to open the café as a welcoming environment to the local community, especially the farmers.
About 20 years ago, Mark's family moved from California to operate a dairy in between Cloverdale and Hebo. Since graduating from Nestucca High School, Mark had mostly been occupied helping his father and brother run the family dairy. But over the years as Mark saw eateries move in and out of Cloverdale, especially in the building now leased by his family, he began to aspire to open his own restaurant. After winning Lisa over, the couple labored to give the building a dairy themed make-over — including photos featuring Mark's grandfather's farm and a milking machine. Menefee's Feed Wagon started serving up plates full of goodness on February 28, 2017.
Lisa sees this café as a family effort. Her daughter, Chantell, joined the Menefee team, each of them bringing their own talents to the table, which includes a smorgasbord. Chantell and Lisa cook up café classics, and Mark spices up the menu with Chinese cuisine. Menefee's also features the family cheese cake recipe of Lisa's daughter-in-law, Jorri Paulus. Jorri's creations, called Mama J's Cheesecakes, are for sale by the piece. However, if you want to take home the whole cake, you can preorder a cheesecake for $32.00.
Popular customer orders include pulled pork sandwiches, hamburgers, sweet and sour orange chicken, and waffle fries. Both local and migrating consumers, have commented on the homey atmosphere and delicious menu.
Menefee's is also serving the public as a farm education facility, as many visitors have never seen a milk line.
Regular operating hours are weekdays 7:30 am to 2 pm.
NOW – Menefee's is offering dinner every other Friday. TONIGHT – May 26th, the menu will include a Chinese food platter, served from 5 pm until supplies run out. According to Mark and Lisa, if you want to one of their dinners you will have to beat the rest of the herd to the feed line.
The café is also open weekends, Saturday 8 am-3 pm and Sunday 8 am to 2:30 pm. A trip to Menefee's will make you wish you had four stomachs to fill.