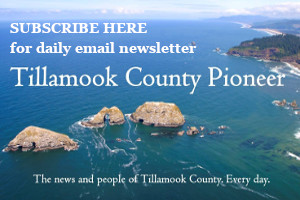 The US Coast Guard reported a derelict vessel had come ashore between Hug Point and Arcadia Beach sometime around 2:50 p.m., Saturday December 2nd. A fiberglass boat lying on its top, covered in pelagic barnacles was discovered. The King Tides during the weekend had brought something more than extreme waves — a 45-foot boat with Japanese lettering,

named the "First Ichimaru" loaded with barnacles and Japanese Kanji now lies on the beach south of Cannon Beach.
Shortly after confirmation of the debris, teams from various organizations were called to the scene. The US Coast Guard activated their HazMat team, Cannon Beach Fire and Rescue, as well as the Oregon Department of Fish and Wildlife's Invasive Species specialists, and OSU's Hatfield Marine Science Center were all on hand to assist Oregon State Parks.
Responsibility for this beach debris falls into the hands of the Oregon Department of Parks and Recreation and lies in the geographic area assigned to Nehalem Bay State Park. There has been an assessment of the debris which involves the US Coast Guard making sure there isn't any hazardous materials inside the craft, then ODFW and OSU determine if the object poses a threat to the surrounding environment. Personnel from Cannon Beach Fire and Rescue cut into the hull in order to get a better view of what may be inside, and it was determined that it was devoid of any hazardous materials.
The boat is still there, its large and heavy enough that it is not believed the craft will return to sea during the next several tidal cycles.

It is currently not confirmed that the "First Ichimaru" is a direct casualty of the 2011 Japanese tsunami. The ship debris lies about a half mile south of the Arcadia Beach Access, south of Cannon Beach.