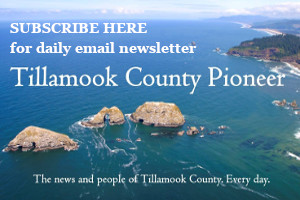 Although September ended cool and rainy, October is starting out sunny and dry. It's a good reminder that fire season is still in effect on all lands protected by ODF.
                                         
Twenty-one new fires have been reported across Oregon since the start of October. Lightning has not been a factor in the recent spate of fires. Instead, humans have been the cause. At this time of year, fire escaping from yard debris burns is a major concern for firefighters.
                                                                                                 
Fine fuels, such as dead grass, can dry quickly, even after a few hours of sunshine. So even though new, green grass is appearing, heavy stands of dry, dead grass may still catch fire from a spark.
                         
Even though most fires in October have been put out before they spread very far, the potential exists for damage to property and nearby livestock.
Debris burning remains restricted in many areas throughout the state. For the latest information on restrictions on ODF-protected lands, go to
http://www.oregon.gov/ODF/Fire/Pages/Restrictions.aspx  or check with your local ODF unit or forest protective association for details. 
For photos and more information on wildfires and wildfire readiness, visit ODF's wildfire blog at
http://wildfireoregondeptofforestry.blogspot.com/
 
Updates on existing Oregon wildfires                                     
For more information about large wildfires, including those listed below,
please visit: https://inciweb.nwcg.gov/                                                               
 
Chetco Bar Fire – Curry and Josephine counties
Acres: 191,090             Containment: 98%
Personnel: 184              Cause: Lightning
Work on the northeast perimeter was finished yesterday. Today, firefighters will continue to patrol the fire perimeter, mop-up any areas of heat, work on suppression repair, and haul away remaining equipment and supplies from the field. Fire personnel continue to demobilize as work assignments are completed. Fire officials plan to transfer command of the fire to a local Type 3 organization on Thursday evening.
A Burned Area Emergency Response (BAER) Team continues to assess post-fire impacts. The team is comprised of US Forest Service, National Park Service, and National Oceanic and Atmospheric Administration employees. These specialists have been conducting field surveys to assess watersheds, taking inventory of resources at risk and gauging the need for emergency measures and treatments on National Forest lands. Their goal is to find ways to minimize threats to life or property and to stabilize and prevent unacceptable degradation to natural and cultural resources resulting from fire. The Bureau of Land Management has already completed a BAER assessment for lands under its jurisdiction.
For more information, please visit Inciweb: Chetco Bar Fire
Eagle Creek Fire – Columbia River Gorge
Acres: 48,831               Containment: 46%
Personnel: 166              Cause: Human
Crews and heavy equipment will continue fire suppression repair work today. Falling crews will begin to scout hazard trees along roads and trails on the west side.
 
Yesterday, the Burned Area Emergency Response (BAER) Team spent much of the day considering the threat level posed by possible floods, rock fall, debris flows, falling trees, erosion, and invasive weeds. The team is preparing proposals for mitigation work, and developing cost estimates. They expect to have preliminary proposals for emergency work summarized by Thursday for discussion with agency representatives.
 
BAER Team members and other fire personnel have reported falling rocks and debris dislodging within the fire closure area. The area closure is in place to protect the public and emergency responders from hazards such as falling trees, rolling rocks and unstable terrain. The public is asked to continue to respect the area closures and to call local forest offices for hiking and recreation alternatives.
For more information, please visit Inciweb: Eagle Creek Fire
Umpqua North Complex – Umpqua National Forest 
Acres: 43,158                  Containment: 79%
Personnel: 136                 Cause: Unknown
With fire behavior reduced to smoldering stumps and logs within the interior of burned areas, fire suppression repair continues. The removal of hazardous trees has begun within the Fall Creek Fire area. Last Saturday, members of the Umpqua National Forest fire crew entered the area and began flagging hazard trees in advance of a team of now 11 local area contract fallers under the supervision of a falling boss and a safety officer. They are finishing up the falling and clearing of dangerous trees along a number of U.S. Forest Service roads.                              
                                                                                                                                                                                                                                                                                                                
Yesterday, work began on falling and clearing hazard trees along Highway 138 between mileposts 46-51 in the Illahee Flats area. That work is scheduled to run through the end of this week.
The Oregon Department of Transportation (ODOT) will provide traffic control and pilot car escort along the corridor from 8:30 am until 6 pm each day.
The following trails are now open: segments of the North Umpqua Trail #1414, Mt. Bailey Trail, #1415, Dread and Terror Trail, #1461, Rodley Butte Trail, #1452, and West Lake Trail, #1452. For more information on this complex of wildfires, please visit Inciweb: Umpqua North Complex 
About this update
This update provides information chiefly about fires 10 acres or larger on land protected by the Oregon Department of Forestry. ODF provides fire protection on 16.2 million acres of private and state-owned forestland, and Bureau of Land Management forestlands west of the Cascades. ODF works closely with federal and local firefighting agencies to prevent and suppress fires.