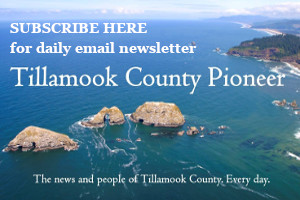 Manzanita, Ore.— Are we as self-sufficient as we can be? As we should be? What are the pleasures and pitfalls of doing it yourself? Join a free community conversation that investigates why we strive to be makers and doers in a world that provides more conveniences than ever before.
This is the focus of "Why DIY? Self-Sufficiency and American Life," a free conversation with Jennifer Burns Bright on Tuesday, September 25 at 6:00 pm at North Tillamook Library, 571 Laneda, Manzanita. This program is hosted by the Tillamook County Library and sponsored by Oregon Humanities.
Jennifer Burns Bright is a food educator and travel writer based in Port Orford, Oregon. She moved to the coast after many years teaching literature at the University of Oregon, where she researched modernism and desire, led a faculty research group in the emerging discipline of food studies, and won a national pedagogy award for a team-taught, interdisciplinary class on bread. She holds a PhD from the University of California at Irvine and a Master Food Preserver certification from OSU Extension. When she's not out gathering seaweed or fermenting fruit, she might be found interviewing young farmers, old pirates, and mad scientists.
Through the Conversation Project, Oregon Humanities offers free programs that engage community members in thoughtful, challenging conversations about ideas critical to our daily lives and our state's future. For more information about this free community discussion, please contact Bill Landau at 503-842-4792, ext 1709 or blandau@co.tillamook.or.us.
Oregon Humanities (921 SW Washington, Suite 150; Portland, OR 97205) connects Oregonians to ideas that change lives and transform communities. More information about Oregon Humanities' programs and publications, which include the Conversation Project, Think & Drink, Humanity in Perspective, Bridging Oregon, Public Program Grants, Responsive Program Grants, and Oregon Humanities magazine, can be found at oregonhumanities.org. Oregon Humanities is an independent, nonprofit affiliate of the National Endowment for the Humanities and a partner of the Oregon Cultural Trust.