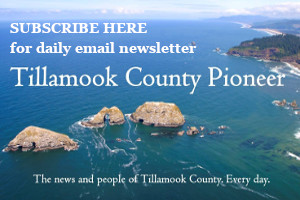 By Gordon McCraw, Meteorologist for the Tillamook County Pioneer
We continue to be under the influence of the blocking high pressure ridge for one more day, but then some changes start taking place tonight thanks to a change in the jet stream that will break down the ridge and allow a cold front to race towards the coast.  It also weakens and pushes the low off of California inland to the east. For us, this all means we see increasing clouds tonight with light east winds still, the low near 45.
Rain will move up the coast from the southwest early tomorrow morning, with rain likely by around noon, the winds becoming southerly and increasing to 5-10 gusting to 18, the high near 59. The front finally pushes through later tomorrow night, giving us a short burst of heavier rain and winds, then we transition to scattered showers, with a slight chance of thunderstorms also, becoming breezy with westerly winds 15-20 gusting to 35 with gusts to 40-50 possible at the beaches, lows near 45. It looks like we will get around 1 to 1 ½" of rain from this event, maybe a little more in the Coast Range. This will push the river flow rates up a little, but nothing significant.
We see scattered showers Sunday still, and the westerly winds 15-25 gusting to 35. The winds and showers start to ease later in the afternoon as another high pressure ridge enters the picture, the afternoon high temperature near 51.  Any remaining widely scattered showers end Sunday night, the winds becoming light and variable, and with the skies slowly clearing, the lows drop to near 38.
Monday looks mostly sunny thanks to the ridge, the high near 55, but in comes more clouds that night as a weak front pushes through the ridge, bringing an increasing chance of rain starting early Tuesday morning with rain likely again in the afternoon or evening. The rain continues Tuesday night into Wednesday, then like usual, post- frontal showers continue into Thanksgiving Day with high temperatures Thursday around 52, lows that night around 40.