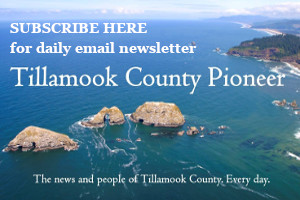 Friday, September 9, 2022
Weather
The easterly winds continue to increase this afternoon and evening bringing much dryer, warmer, and somewhat smoky air from the wildfires in eastern Oregon including the Cedar Creek Fire. As a result, we see a Red Flag Warning over the entire forecast region and an Air Quality Advisory for areas south of Tillamook County. This will bring clear but hazy skies tonight with winds here northerly 10-15 gusting to 25, the low only down to near 63.
The conditions intensify tomorrow with sunny, hazy, and warming skies. The winds increasing and becoming easterly 15-20 gusting to 30-35, especially in the passes, the high climbs to near 85. The models suggest the pool of warmer air shifts east some tomorrow afternoon and evening and this would allow for the onshore flow to return, bringing more clouds and cooler temperatures starting tomorrow night, so look for the marine clouds to return tomorrow night, winds becoming westerly 4-8, the low back down to near 57.
A low pressure area that was off the southern Oregon coast will drift northward early Sunday morning, enhancing and thickening the marine stratus and bring a slight chance of morning mist or drizzle. We see partly sunny skies by the afternoon Sunday, winds southerly 5-10, highs only near 70. The clouds and the chance of mist or drizzle returns Sunday night thanks to an approaching trough of low pressure, lows near 55.
The ridge continues to get pushed south and east Monday. Not all the models agree but it appears that the trough will pass just to our northwest, keeping us mostly cloudy and cooler with the high near 67, lows that night near 53.
It looks like another trough will help keep us mostly cloudy to partly sunny Tuesday, Wednesday, and Thursday with highs near 65, lows near 52.
National Preparedness Month
It is very important to make a family emergency plan that can be put into action as soon as a disaster strikes. Make sure your plan includes your children, seniors, disabled, and don't forget your pets!
As you prepare your plan tailor your plans and supplies to your specific daily living needs and responsibilities. Discuss your needs and responsibilities and how people in the network can assist each other with communication, care of children, business, pets or specific needs like operating medical equipment. Create your own personal network for specific areas where you need assistance. Keep in mind some these factors when developing your plan:
Different ages of members within your household
Responsibilities for assisting others
Locations frequented
Dietary needs
Medical needs including prescriptions and equipment
Disabilities or access and functional needs including devices and equipment
Languages spoken
Cultural and religious considerations
Pets or service animals
Households with school-aged children
More on some planning questions that need to be addressed next week.