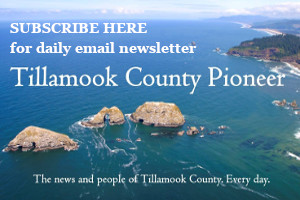 Friends of Netarts Bay WEBS (WEBS) works to build a community of environmental stewards around Netarts Bay watershed and the areas between Cape Meares and Cape Lookout. We recognize the role that students can play in this stewardship, and we are pleased to announce a new scholarship opportunity for Tillamook County residents that plan to enroll in any University, College, Junior College or Trade School and work toward a degree or certification in the field of natural resources.
"WEBS is committed to supporting local students who care about our natural resources. We are thankful for the support we have received from our
community. As a result of these contributions over the years, we are excited to announce a new scholarship opportunity open to individuals pursuing careers in science and conservation that inform future natural resource decisions related to the Netarts Bay watershed," says WEBS Executive Director Chrissy Smith. "We are excited to be able to pay it forward and hope this will make it easier for local residents and students to start a career in science, watershed health, bay ecology, oceanography or a related field."
Multiple scholarships may be awarded each year at the discretion of the board and based on applicants. This scholarship opportunity is available to any graduate of Tillamook County schools and current residents. Applications are due February 28, 2022. Funds will be allocated via the Tillamook School Foundation. More information can be found on the Friends of Netarts Bay WEBS website at www.netartsbaywebs.org/scholarships.
Questions about this opportunity can be sent to Friends of Netarts Bay WEBS by emailing director@netartsbaywebs.org.