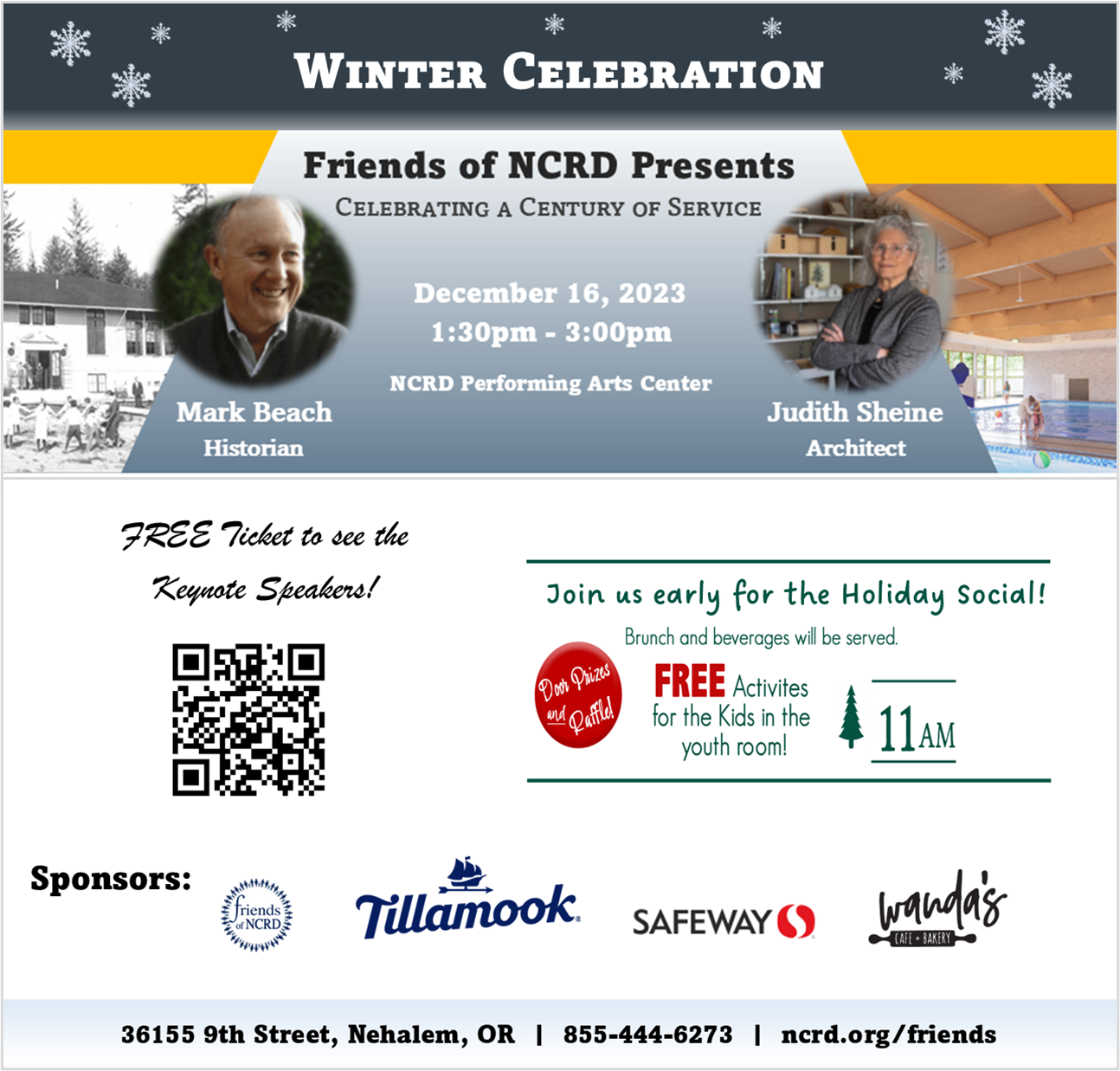 Friends of Netarts Bay WEBS fall community events are underway! Join us this month for some coastal fun, including our crab-focused events for fall crabbing season! You can learn more about the events on our website at netartsbaywebs.org/events.
Art of Growing Oysters with Whiskey Creek Shellfish + Schooner Restaurant and Lounge – October 9 at 10 AM
Do you enjoy Pacific Northwest oysters? Have you ever wondered where the tasty critters on your dinner plate come from or are just curious about oysters in general? The oyster industry in Tillamook County includes a number of farms and one of the largest oyster hatcheries in the country – Whiskey Creek Shellfish Hatchery – on Netarts Bay. Join us during Art of Growing Oysters to discover more. This tour includes a stop at Whiskey Creek Shellfish Hatchery and ends with a shucking lesson and samples at Schooner Restaurant and Lounge.
Register: This is an in-person event. Registration required. Learn more and register here.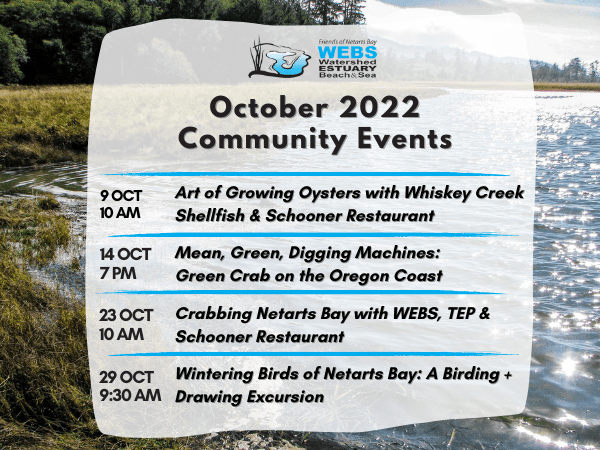 Mean, Green, Digging Machines: Green Crab on the Oregon Coast – October 14 at 7 PM
What does the arrival of green crabs mean for Oregon's coasts? Learn about these crabs & efforts to slow their spread. The European green crab is considered one of the most detrimental invasive species on the planet due to cascading effects in the ecosystem that can drastically change coastal economies. Populations of green crabs on the West Coast are currently exploding in numbers since they were first detected in 1989. These crabs have voracious appetites and disturb the critical eelgrass habitats that salmon and Dungeness crabs rely upon. Get to know how these crabs got here, the threats that they pose, and what is being done to slow their spread. Register: Options are available to join in-person or virtually. Register for more information. Register here.
Crabbing Netarts Bay with WEB, TEP & Schooner Restaurant – October 23 at 10 AM
Have you ever wanted to go crabbing in Netarts Bay? Have you tried it but wanted to learn more? Join Tillamook Estuaries Partnership and the Friends of Netarts Bay for a fun-filled Sunday exploring crabs and crabbing. TEP's own Jesse Kane will share his knowledge and experience harvesting wild foods. Get tips on gear, timing, and technique. Learn about size and catch limits. We will even help you learn fun facts about the various decapods in the bay. The day will conclude with a demo on cooking and cleaning crabs at Schooner Restaurant and Lounge.
Register: This is an in-person event. Registration required. Learn more and register here.
Wintering Birds of Netarts Bay: A Birding & Drawing Excursion – October 29 at 9:30 AM
Do you want to REALLY get to know the Birds of the Bay? Draw them! Join Artist Ram Papish as we take a closer look at local birds by identifying and drawing them. This program will begin with a presentation on Netarts Bay Wintering Birds, followed by a Bird Drawing presentation. Participants will then practice their winter bird drawings with Ram Papsish, followed with an outdoor excursion to Netarts Bay for winter birding and sketching
(weather dependent). All birding levels are welcome! Some supplies will be provided, visit the event page to learn more.
Register: This is an in-person event. Registration required. Learn more and register here.
ALL PROGRAMS
Cost: There is no cost to attend this program. Tax-exempt donations to Netarts Bay WEBS to enable programs like this are encouraged, but not required. These events are part of the Explore Nature series of hikes, walks, paddles, and outdoor adventures. Explore Nature events are hosted by a consortium of volunteer community and non-profit organizations, and are meaningful nature-based experiences that highlight the unique beauty of Tillamook County and the work being done to preserve and conserve the area's natural resources and natural resource-based economy.
Learn more about Friends of Netarts Bay WEBS on our website (www.netartsbaywebs.org) and by following our Facebook and Instagram pages (@netartsbaywebs).
These are Explore Nature Partnership Cross-Listed Events. Stay connected with the Explore Nature Partnership at www.explorenaturetillamookcoast.com or on social media (@explorenature_tillamookcoast).
Questions? Contact info@netartsbaywebs.org