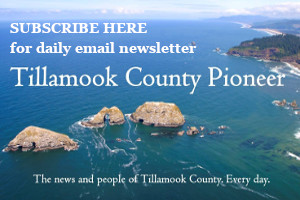 By Representative David Gomberg, House District 10
There is so much about 2020 that didn't go the way any of us planned. But despite all the challenges we've faced, or perhaps because of them, I hope you had a meaningful Thanksgiving this year.
I remain grateful for the beautiful place where we live, for our resilient community that remains willing to help each other, for the firefighters, health care workers, teachers, and frontline workers who do their best every day, and for my wonderful wife who doesn't always agree with me, but always supports me.
I truly believe that even in the face of all that this year has thrown at us, that we are fortunate to have family and friends we can count on to help us get through difficult times. Thanksgiving was, at best, unconventional. But it's important that we remember the strength of spirit that binds us together as Oregonians.
New COVID Framework for Oregon Counties
In my last newsletter, I reported on the Governor's two-week statewide freeze to address Oregon's significant increase in  positive COVID-19 cases and hospitalizations. But I also spoke about concerns for a "one size fits all" approach that applied the same limits to all parts of the state when conditions were much different in many regions.
The Governor has now announced a new longer-term plan. The new guidelines are intended to tie limitations more closely to local conditions over the remaining months of this pandemic. It's a balance between a freeze to curtail the spread of the virus, and strong guidelines to manage risk in a more long-term sustainable manner. For most parts of our district, restaurants, faith institutions, visitations at long-term care facilities, and indoor recreation are being re-opened.
The data-driven framework will assess counties based on their level of COVID-19 spread: Extreme Risk, High Risk, Moderate Risk, and Lower Risk. Tillamook County is now at Moderate Risk.  Lincoln is at High Risk. Yamhill and Polk Counties, along with most of the Willamette Valley, are at Extreme Risk. No county is at "No Risk!"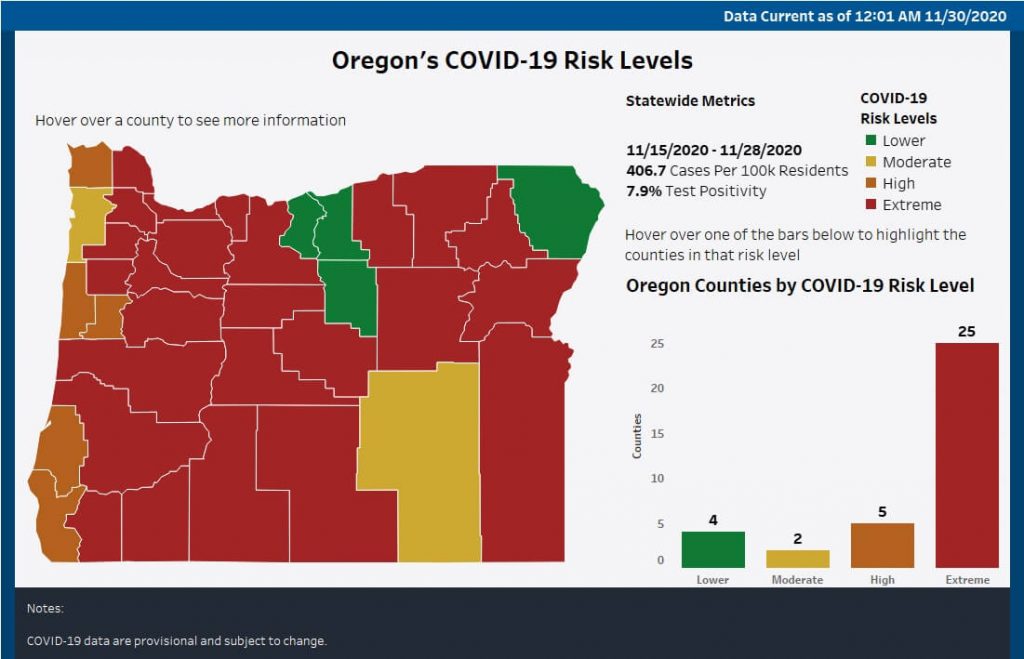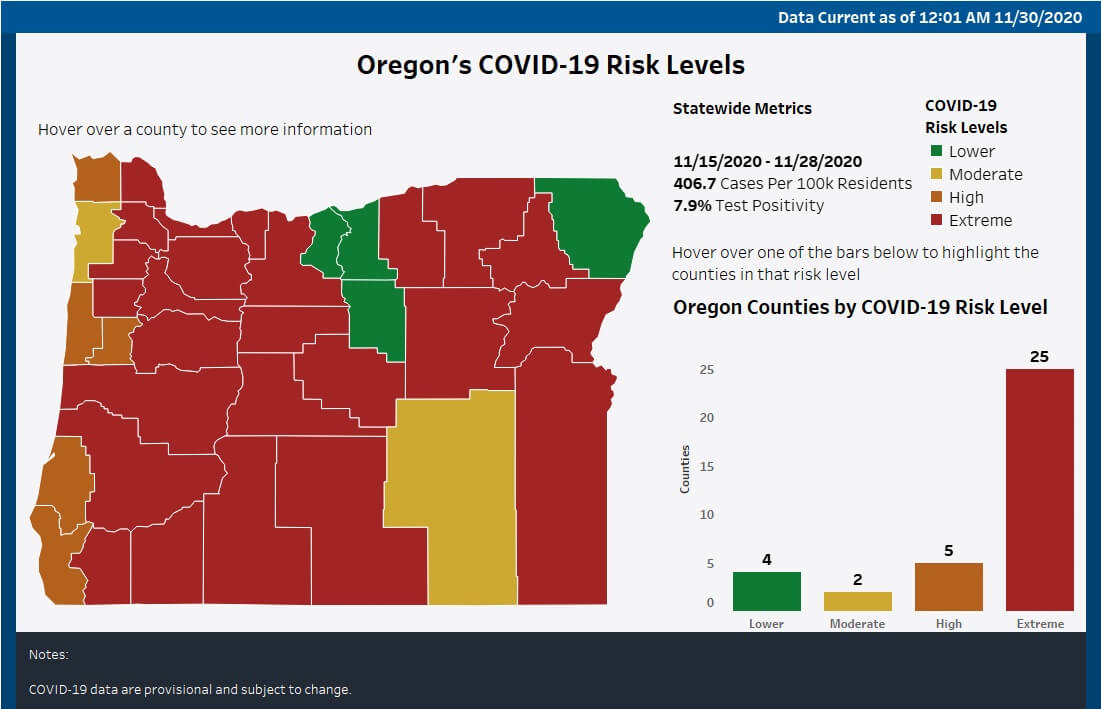 In counties with Moderate Risk, the following activities will be allowed:
Social and at-home gatherings with people from outside your household will now be limited to a maximum of 8 people, with a recommended limit of two households.
Restaurants, bars, and other eating and drinking establishments will be open at 50% capacity with a maximum of 6 per table and an 11pm closing time.
Indoor recreation, fitness, and entertainment establishments, including gyms, are open at 50% capacity.
Outdoor recreation, fitness, and entertainment activities will be allowed, with a maximum limit of 150 people.
Retail stores, grocery stores, pharmacies, and indoor and outdoor shopping centers and malls will be limited to 75% capacity, with curbside pick-up encouraged.
Office workplaces are encouraged to utilize remote work as much as possible.
Personal services businesses will be allowed to continue to operate with health and safety measures in place.
Long-term care facilities can allow limited visitation, following established health and safety protocols.
Faith institutions, funeral homes, mortuaries, and cemeteries may operate with a maximum of 50% capacity or 150 people indoors (whichever is smaller), or 250 people outdoors.
For more details, you can review an overview of the guidelines and guidance for permitted activities under each risk level. Oregon counties that are successful in reducing their COVID-19 risk levels in the coming weeks will incrementally move to lower risk levels.
My Take: The legislature is not in session and these difficult decisions are being made by the Governor. I believe this new county-based approach makes sense. As I have said before, it is frustrating to have to operate under tighter restrictions because of infection rates that are higher elsewhere in the state. But we also need to be cognizant and vigilant as people from those areas come here to visit and many of us go there to shop or see friends and family.
A local focus means we now have even more reasons to exercise the precautions we have heard so often. Wear a mask. Maintain physical distance. Avoid larger social gatherings.
As the pandemic drags on, families are suffering. Unemployment remains highest here at the coast. Small businesses are struggling with closures and constant rule changes. We're working to get kids back to school. And COVID fatigue is setting in.
This is hard to get right, so we have to be open to change based on new information and data. And we must improve the collection of that data. I will continue to advocate for more and better testing. We have had little help from the federal government in that regard, and I hope things will change with the new administration in late January.
Light at the End of the Tunnel: Oregon will start receiving 30,000 vaccines in late December for frontline healthcare workers. Once healthcare workers are covered, it will be available for vulnerable populations, essential workers, and then the population at large. In the meantime, please stay safe, use masks, and support local shopping as safely as possible to keep our small businesses afloat.
Revenue Forecast: I have written often about concerning predictions for reduced tax revenue and necessary cuts to state spending. We received our quarterly revenue forecast last week. The overall picture is far better than the dire news last May and relatively stable from our September forecast.
The bad news: For 2021-23, the forecast projects a $2.8 billion gap between expected revenues and current service levels.
The good news: Reduced current spending has produced a roughly $1.9 billion ending fund balance for the 2019-2021 biennium. But that still leaves a deficit of nearly $1 billion for the upcoming biennium. Fortunately, our reserves are in better shape than a majority of other states. Nevertheless, producing a balanced budget in the next legislative session will require much deliberation and difficult decisions.
On another positive note, lottery revenue forecasts are back up. Earlier in the year, with businesses closed and sales down, the sale of lottery bonds was cancelled. That cost us critical investment in projects around Oregon, including the Newport Dams, the Oregon Coast Aquarium, and the Lincoln City Cultural Center. I'm now advocating, again, that we issue those lottery bonds for projects that were approved in 2019, but frozen in 2020.
Unfortunately, the current forecast continues to obscure the painful impacts being felt by low-income Oregonians who have been disproportionately affected. The relatively positive long-term picture painted by state economists, with the economy starting to rebound in 2021 and reaching pre-pandemic employment levels by 2023, depends on getting the virus under control and on Congress passing the HEROES Act to provide relief for businesses, cities, counties, and individuals.
A Special Session: There are continued discussions about a possible special legislative session in December. Some of the  topics that need immediate attention include support for landlords and tenants, liability protections for schools, local government, and small business, changes to make DMV more accessible, testing and PPE preparedness, and public health data sharing. As rumors become realities, I'll keep you informed.
At the same time, plans are coming together for how the regular 2021 legislative session will function, while accommodating the needs and safety of legislators, capitol employees, and the public. More details will be shared in the coming weeks.
Until then, December is upon us. It is a time of crisp, cold sunsets, seasonal celebrations, and hopeful planning for a new year. Let's all focus on making the best of these trying times and trust that 2021 will offer better things to come.