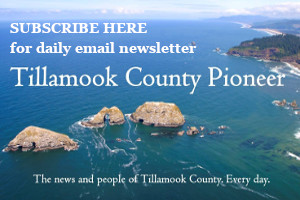 Reprinted from the Daily Astorian
Published on May 3, 2018 9:59AM
Last changed on May 3, 2018 10:55AM
Outside money pouring into the race
What strikes us most about the race to replace retiring state Rep. Deborah Boone, D-Cannon Beach, is the money.
Special interests in Salem and Portland have been pouring cash into the coffers of two Democrats — Tim Josi of Bay City ($100,000) and Tiffiny Mitchell of Astoria ($57,000).
Josi is backed by most major industries in the region, along with many incumbents in the state Legislature, including Boone and state Sen. Betsy Johnson, D-Scappoose. His largest individual contributions include $5,000 each from the Or loggers political action committee and Tillamook County Creamery Association.
Mitchell, a member of the Service Employees International Union, is backed largely by public employee unions, including nearly $25,000 from the Citizen Action for Political Education political action committee, whose first objective in their bylaws is to "promote the welfare of the members of The Union."
The other Democrat in the race, John Orr of Astoria, has raised only $16,000. He has the fewest big-ticket contributions, albeit the most from locals, including $1,000 each from Astoria company Oceanic Logistics LLC, local activist Kathleen Zunkel and Anne Carpenter, wife of Astoria Planning Commissioner Sean Fitzpatrick.
Vineeta Lower of Seaside, a Republican, has raised only $8,000. She is backed by state Rep. Greg Barreto, R-Cove, and the Promote Oregon Leadership political action committee supporting House Republican candidates.
Brian Halvorsen, an Independent, reported no contributions.
We'll focus on the Democrats today. Lower and Halvorsen are running unopposed in their respective primaries, and we'll talk about them in the fall before the general election.
The eventual winner will nominally represent state House District 32, including all of Clatsop County, most of Tillamook County and a western portion of Washington County. But the amount of special interest money in play begs the obvious question — who, exactly, will he or she represent?
Tim Josi
Josi served in the state House from 1991 to 1998 and has been a Tillamook County commissioner for the past two decades.
He left the Legislature due to term limits, which have since been repealed by the state Supreme Court. He's a career politician in his 36th year of elective office. He's not ready to retire yet and wants to return to a job that he loved, he said.
He is the presumed front-runner, and is running with the smugness of an incumbent.
"The lobbyists that knew me then, they're just thrilled that I've thrown my hat back in the ring," Josi told The Daily Astorian's editorial board. "They say, 'Josi, we need more people like you here.'"
Really? Does he think that's a ringing endorsement to the people of Clatsop County? How tone deaf can he be?
Josi also must fight the perception that he's in bed with the timber industry and wants to clear-cut our forests. Some people in the county have told him to his face they won't vote for him because of that, he said.
He is an unapologetic supporter of the timber industry and the family-wage jobs it represents. He believes modern forestry practices can minimize damage to the environment, he said. Many counties in Oregon are close to insolvency due to the loss of timber money.
We don't think he needs to be apologetic, because timber revenues drive much of our county's economy. The minimum-wage jobs the tourism industry brings in are a poor substitute.
We do question how well legislative experience from the 1990s translates to today. Salem is a far different place, far more politically polarized. Then again, the lobbyists haven't left.
Tiffiny Mitchell
Mitchell moved to the county from Utah in 2015, and jumped into the race when Melissa Ousley of Warrenton dropped out.
One of Ousley's concerns was splitting the Democratic vote in Clatsop County. Mitchell's entry at virtually the last second of the filing day deadline seems to create the same problem — she and Orr are both progressives, with similar views on many issues.
Mitchell is intelligent, articulate and well-meaning. She is active in Indivisible North Coast Oregon and wants to fight for issues important to workers, such as affordable housing, Medicare for all, corporate tax reform and fully funding education, she said.
"My promise is always to vote on the side of working people," she said.
We are very concerned about the level to which her campaign is stage-managed and underwritten by union interests. Calls or emails to her are generally answered and screened by an SEIU operative in Salem. As an employee of the state Department of Human Services, she isn't allowed to campaign on work time, but the arrangement still raises eyebrows.
Pension reform is the single biggest issue facing the Legislature, and public sector employee unions run the place. We don't think anyone elected by those unions is likely to vote for meaningful change.
John Orr
Orr is a lawyer, a longtime municipal judge in Gearhart, and project development manager for Trails End Recovery in Warrenton.
He is a strong proponent of campaign finance reform and feels that elected officials don't represent their constituents' interests due to the influence of money, he said.
His top priority would be to raise taxes on the wealthy, rather than the middle class, to stabilize funding for essential government programs, he said. He is concerned about the state's lack of investment in education and health care, as well as the North Coast's low priority for budget money compared to the Portland area.
"I know if I am elected, it will be addressed," Orr said. "I will be heard."
We believe that Orr is the least beholden of the three Democratic candidates to special interests, and he has our endorsement.
We are careful about what we wish for — he can be scratchy and brusque at times, likely because of his background as a judge and lawyer. Properly channeled, we think he will be a fierce advocate for Clatsop County's interests.
He deserves your vote on May 15.