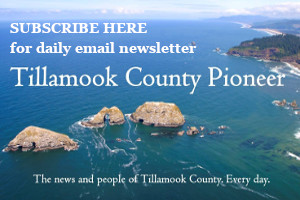 By Gordon McCraw
First the Weather:
Sunday, April 25th we see more showers resulting from a low pressure area that could also trigger a thunderstorm or two and maybe even some small hail Sunday afternoon and evening.
As for next week, it looks like another disturbance approached Monday and enhances the shower threat during the day then a weak ridge moves in and causes the showers to become more widely scattered Monday night into Tuesday. This will also push up the high temperatures to near 60. Another weak disturbance increases the shower threat Tuesday night thru Wednesday. The models are 50/50 on what we will see later Wednesday into Thursday. Some show a stronger ridge which would mean dry conditions while the other group of models show a weaker ridge that allows for an increased chance of showers.
The longer range models are even more mixed thru Friday at this point. We could see even warmer temperatures under sunny skies that result form a strong high pressure ridge but then some of the models show a weakening ridge, increasing the chance of clouds and rain. All this is still a ways out so we will be getting a clearer pictures early next week.
Community County Leadership Call Covid Update
Friday April 23rd would be movement week if a Risk Level change was warranted. Our case numbers for the last 2-week monitoring period was 49, and while lower than the previous monitoring period, it still puts us in the High Risk category so there is no change in our Risk Category this period. The next chance to change levels will occur the first week of May. OHA will pull and review the numbers on May 3rd , then push out a Press Release on May 4th that advised all counties what level they would move to on May 7th. Our case count is marginally lower than the previous weeks, but this can easily change. Only by everyone continuing to observe necessary precautions by weaking a facemask, washing hands frequently and staying 6' apart, will these number go down. The only way to impact the necessity of observing these precautions is for everyone to get the vaccine!
We are currently monitoring 24 individuals related to COVID and there is 1 person still hospitalized with COVID. Tillamook County's total is 595 cases to date. It was a busy week for the vaccine partners with 906 Primary shots provided and 710 Boosters. This means 41% of the Tillamook County resident have had their first shot and 27% have received both shots and are done! These totals are a little above the state average right now, but we are still a ways off from the goalpost. There are plenty of openings for appointments at our vaccine sites, and everyone is eligible now so go pick you date and time at: https://app.blockitnow.com/consumer/covid-care. We are working with OHA and the School Districts on getting and scheduling shots for 16- and 17-year-olds using Pfizer. Stay tuned for more info.