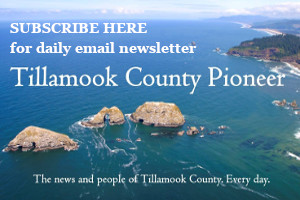 EDITOR'S NOTE:  Don Backman is a local photographer and correspondent who grew up in Tillamook County. A retired Special Education teacher, he spent 21 summers fighting forest fires, first for the BLM, and then 17 years for the ODF in Tillamook. It was a dream job for him, getting paid to patrol the forests he grew up in and loved. He drew on his experience to help write this article.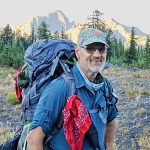 Article, Photos & Video By Don Backman, for the Tillamook County Pioneer
"The fire came up over the ridge over there," Mike Cafferata, Forest Grove District Forester for the Oregon Department of Forestry, explained, gesturing across the bare dirt of a dozer line and a young, unburned and replanted unit, and toward some scorched and burned trees on the edge of a ridge. A steep canyon lay just on the other side of the trees. A dozer line ran along the edge of the timber, separating the burned from the unburned. "We had sixty people lined up across there and they caught nineteen spot fires."
Mike Cafferata took time from his busy day Thursday, July 22st to help out by covering part of a shift on the Game Hog Creek fire, and afterward led members of the media on a tour. Mike Morton, day shift Incident Commander, a position usually referred to as the IC, helped out. Morton discussed how the drought and dry conditions were causing fires to burn in a way that is normally only seen in late August or in September when Northwest Oregon typically has its driest season.
"The Game Hog Creek fire was almost like fighting two fires," Cafferata said.   One part was the fire in the logged areas where crews were working as we watched. They were walking along in a line, feeling the ground with their hands, searching for any hot embers or "smokes," then digging out the spots with shovels and Pulaski's, the ever-present combination of hoe and ax, and stringing hose out to them from a 300 gallon 4×4 ODF engine from Columbia City that was parked beside the road. A few spots still smoldered deep within the burned area, their tendrils of smoke visible above the fire-blackened landscape. The crews would work their way to them.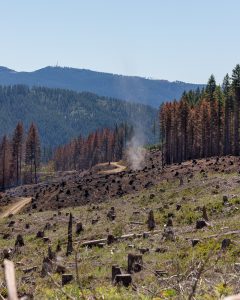 Mopping up fire can take a long time. Fires often burn deep into tree roots and duff, organic material on the forest floor that can hide fire deep in the ground, only to let it burn through days later. The crews have to find every single one, dig it out, then feel around the whole area to make sure they haven't missed anything. Only then can they move on, searching for the next one, staying in line to make sure they don't miss a hot spot. The goal is to create an ever-widening perimeter that has been completely extinguished, creating a barrier to reduce the chances of fire escaping.
Fortunately, logging roads allowed crews and equipment to reach the fire within 2 hours, and Cafferata explained they stopped the fire in this section in 12 hours. In addition to the dozer line up on top, some sections were only accessible by the hand crews who dug a three-foot-wide fire trail down to mineral soil along the burned edge. Hose lays, made up of 1-1/2 inch cotton jacketed mainline ran along the fire lines, with gated wye's every 100 – 200 feet where 1-inch lateral lines could be attached so crews could use water to reinforce the fire lines. Sometimes crews use a lightweight ¾ inch fire hose, also referred to as garden hose, when mopping up hot spots because it is light and easier to move around.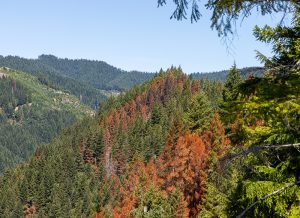 The far northernmost section of the fire, which was much smaller but harder to fight, was on an extremely steep slope running from the ridge top down to Elk Creek far below. This slope contained numerous large cliffs that made it dangerous to work in that area. The steepness created a situation where the fire made rapid uphill runs, forcing crews to retreat to safe areas, and it even burned their hoses. Cafferata explained that this was where helicopters and aircraft were most utilized.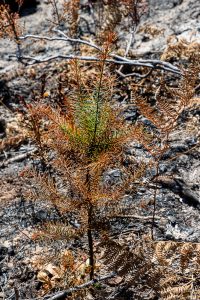 Cafferata showed how the fire had burned the ground under the trees from the creek to the top of the steep slope. Scorched and burned trees marked places where it had flared up along the way. This section had been hard to fight due to the dangerous cliffs. Such steep slopes can also create intense fire behavior, especially when adding afternoon sun heating and wind to the mix.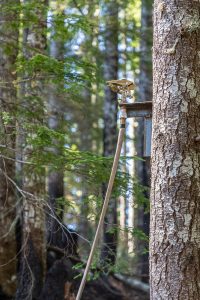 Crews were busy attaching rain-bird style sprinklers, which had been mounted to innovative handmade brackets, to trees along the burned areas, and then connecting them to the hose lay. Morton explained that the plan was to sprinkle 10,000 gallons of water on each side of the fire on this steep slope. They wanted to put out any remaining hot spots in areas that couldn't be reached, and they also wanted to create a barrier to fire spread if any embers survived.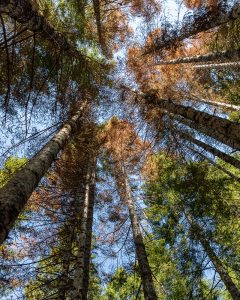 The Game Hog Fire illustrates what is involved in fighting wildfires. A lot of plain hard work. This fire had started July 3rd in the Idiot Creek drainage off of Highway 6, west of the summit. It had been quickly corralled at under 6 acres. Unfortunately, the cliffs in the area meant it was too dangerous and impossible to safely check every single area
by hand and make sure all the spots were put out. ODF knew this was a possibility, and had resources there in case it started smoking again.  On July 13th, sometime after 5:30 when the crew left the fire, the afternoon sun heating the steep slope combined with strong winds estimated at close to 40mph caused it to flare up and quickly spread into a logged and replanted unit. Two hours after the fire had been reported, ODF had crews working on the fire.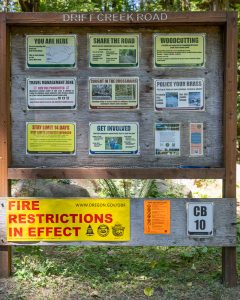 A hands-on look at fighting forest fires in the Tillamook State Forest.
The reality of fighting wildfires is highly skewed by dramatic televised reports.  These usually snow only the more dramatic aspects, walls of flames, trees torching, people spraying streams of water, and air assets dropping water or fire retardant. For many viewers, that is what a wildfire is. However, once the fire has made its run, the work has only started. Hand crews are needed to put it out by hand.
Aircraft are used to support efforts on the ground. Typically, fire retardant is deployed to help cool a spreading fire so it can be accessed on the ground by a dozer or hand crew constructing fire line. While retardant was not used on the Game Hog Creek fire, water can be used the same way, or helicopter bucket drops can cool areas and limit their spread. Sometimes retardant or water is dropped to protect something, such as structures, or in an attempt to direct the fire away from something. However, if crews are not available, then the fire may eventually burn through the area. Helicopter bucket drops are helpful in difficult-to-access terrain as they can drop water on hot spots to help the crews mopping up, or the bucket drops can knock down a spotfire giving time for crews to get to it. Aircraft rarely, if ever, extinguish a wildfire. Fire crews do that, by hand.
Firefighting strategy involves establishing an anchor point, a safe area that will not burn. Then fire lines can be extended along the flanks of a fire, a strategy often referred to as anchor and flank. The goal is to pinch off a fire. Depending on the terrain, weather, and the intensity of the fire, various assets can be employed in the effort to work around the fire and stop its spread. If the fire is creeping, hand crews might be all that is needed. Sometimes they can use hand tools and put a line around it and then mop it up.  Often, the crew will extend a hose lay as they go around the fire, and use water to "Wet-Line" or knock down the fire and help keep the fire from crossing the fireline.  If the fire is larger and actively burning, it may take other resources such as a wildland engine or a dozer to secure the fireline. Sometimes nothing works and the fire is too intense and moving too fast. Crews may be forced to pull back into safety zones, large areas that will not burn, and stay there until it is safer.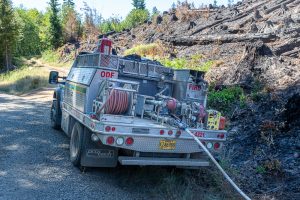 A moving fire can be difficult to stop, especially if it is causing spot fires. Wildland engines can attempt to knock down a small moving fire if they can reach it, but they typically have limited water capacity. Many engines only have 200 – 300 gallons of water as they need to be light enough to be mobile. Water is eight pounds a gallon, and 300 gallons weigh 2400 pounds. Add to that the weight of equipment, pumps, and a hose reel, these vehicles get loaded down quickly. Air assets, such as helicopters with buckets, can drop water and try to cool the spread of the fire, and in some instances, retardant planes can be used. These assets can take many hours or days to arrive, though, and the fire is burning and spreading in the meantime. Also, aircraft may have little effect on a large blowup, even the giant ones such as the Boeing 747.
The Oregon Department of Forestry is essentially Oregon's largest fire department. ODF protects 60 million acres of land across Oregon. To do this, ODF has developed a section called Protection from Fire, or Protection, for short. Northwest Oregon is divided into districts, and each district has the responsibility to fight fires within its area. Each district works closely with local fire departments and agencies. The objective is to extinguish fires in Initial Attack, the phase where crews take the first action on fire. Modern technology and road access mean that almost all fires are resolved at this level, and 90% of all fires are kept to ten acres or less. The public rarely hears of these fires because small fires usually aren't big news.
Each district has engines, which can typically run in size from 200 gallons up to 1,000 gallons, generally with a two person crew. Districts may also have water tenders that can be in the range of 2,000-4,000 gallons. Engines patrol protected areas and help locate and extinguish fires when they start. Since virtually all fires in Northwest Oregon are human-caused (there isn't much lightning here), fires tend to occur around places where people live and work, and in those cases, local fire departments may be on scene first.
When a large fire breaks out and the district is fully committed, they can call in assistance from the other districts. Crews from South Fork Forest Camp are trained to provide needed manpower. Additional crews and additional resources such as hose, pumps, engines, water tenders, and air assets can also be ordered. Districts can also hire local resources, such as water tenders, dozers, or excavators, as needed. If a fire is large enough, a fire team can be called in and the entire state essentially fights the fire.
The Oregon Department of Forestry is a relatively small agency, especially when compared with the Bureau of Land Management and the US Forest Service. Every employee is part of the firefighting effort. For some, it is a field assignment on the line. For others, it is in logistics such as finances or planning. ODF is noted for rapid, aggressive firefighting efforts. Safety is always first, and ODF typically prefers to attack close to the fire, often putting in a fire line the first night of a fire because burning intensity usually decreases substantially as the night wears on.
Any fire agency can become overwhelmed when fire conditions get too extreme, such as during the East Winds of Labor Day, 2020. At that time there were so many small fire starts that agencies throughout the state had few resources available to send to their neighbors, let alone take care of their own needs. When that happened, districts had to look within their area and find private resources until resources from other places could be freed up to help.
Game Hog Creek fire, Pike Road fire, Echo Mountain fire, these names are all too familiar to many residents of Tillamook County. In recent years, the increase in acres burned and the smoke-filled skies throughout the Northwest have brought forest fires – wildfires – home to residents here on the coast. Older Tillamook residents may recall the series of fires – the Tillamook Burn – in 1933, 1939, 1945, and 1951. These fires were enormous and covered enormous areas. However, until recent years, there haven't been very many large fires in this area. Times have changed.