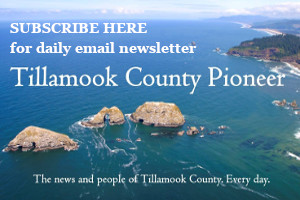 It will be Saturday, May 12 from 9:00 a.m. to 1 p.m. at the old Nehalem Fire Station, 35900 8th St, 1/2 block south of Hwy 101. Patrons are advised to come early for the best selection.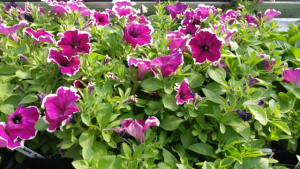 This will be the biggest sale ever! For the first time there will be hundreds of annuals in flower. There will also be loads of succulents and more than 100 hostas. You will find plenty of cherry tomatoes plus larger varieties. Annuals, perennials galore, native plants, shrubs and trees, vegetables and herbs are all selected and grown by club members to be particularly suitable for Oregon north coast gardens. The sale includes several gift options all under $10, including small potted cups, perfect for Mothers Day gifts. Come early before they're gone!
We will have about 100 tomatoes of 10 varieties potted up to gallon size. These are mostly cherry and determinate varieties suitable for container growing. (Determinate tomatoes stay compact.)
Check out this list:
TOMMIE TOE: heirloom red cherry from Ozarks. Top winner against 100 contenders in Australian taste test. 70 days. vigorous plant
SUNGOLD: yellow orange cherry, very sweet 1 oz fruit in clusters of 10-15. Can grow 10′ tall so needs 24″ diameter pot. 55-65 days. disease resistant
SWEET 100: Hybrid red cherry, very sweet and tasty, prolific, 1/2 to 1″ fruit. 68-70 days
SWEET MILLION: 1/2 oz red cherries, hybrid, crack-resistant, 4-6′ tall
SWEETIE: red cherry 1 to 1-1/2″ diameter, firm texture, 65 days, reported to be tolerant of rain and cold (What more could we want?)
CHRISTMAS GRAPE: Highly productive red cherry 1-1/2 to 2 oz fruit in grape-like clusters, 75 days
TUMBLING TIGER: hanging basket or small-pot cherry, fruit red-striped plum shaped, up to 300 per plant, delicious juicy flavor, compact bush habit 12″ tall, 18″ spread, pot as small as 8″ or 14″ hanging basket
BUSH ALL STAR: F1 hybrid, determinate, 7 oz red fruit, strong stem, can produce 40 lb fruit per plant, so needs support though stem is strong, 65 days, promoted as ideal container tomato
OREGON SPRING: Determinate, oval red 3-5 oz fruit, nearly seedless, excellent flavor, 65-70 days, compact and sprawls laterally, usually not requiring staking
EARLY GIRL: hybrid, 6-8 oz fruit, 50 days
The purpose of the sale is to share plants for a good price and to raise money to fund the club's charitable giving program which benefits non-profit projects like Food Roots and the Nehalem Elementary School Garden.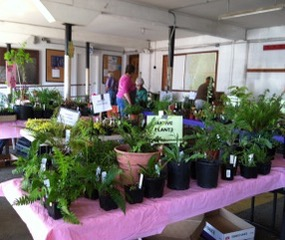 The Nehalem Bay Garden Club is now in its 69th year, and has about 40 members. In early years members were likely to be found wearing white gloves to tea. Today they are more likely to be found with dirt under their fingernails. The mission of the organization is to cultivate knowledge and love of gardening through educational programs and activities, to aid in the protection of the environment, native plants and wildlife, and to support public service through garden-related organizations and volunteer opportunities. Socializing and having fun are also important!
The sale is handicapped accessible with parking and a paved outside area with roll-in access. The club acknowledges and thanks the City of Nehalem for allowing them once again to use the old Fire Station.