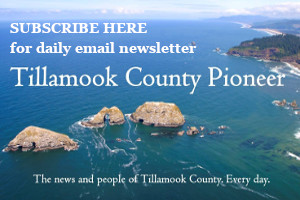 You are invited to join thousands of people who will "Drop, Cover, and Hold On" on October 19th at 10:19 a.m. in the 2023 Great Oregon ShakeOut!
Then Tillamook County is taking it to the next level with a county wide tsunami evacuation drill. The earthquake is the tsunami warning – if you are in the tsunami zone, then evacuate. Be prepared, not scared. Participating is a great way for your family or organization to become better prepared to survive and recover quickly from a big earthquake or tsunami. Why is "Drop, Cover, and Hold On" important to practice? You may only have seconds to protect yourself in an earthquake before strong shaking knocks you down, or something falls on you. Practicing helps you be ready to react.
Do you know your evacuation route for the tsunami? Do you know how long it will take you to WALK there? What if you aren't at home – do you know the evacuation route in other areas? Do you have a Go-Bag ready?
September is Emergency Preparedness Month – so this is a great opportunity for your family, school or organization, and the community to review and update plans, gather go bag  supplies, and secure your space in order to prevent damage and injuries. Everyone can participate! Individuals, families, schools, government agencies, businesses and other organizations are all invited to participate.
Get alerted about emergencies by signing up for the Emergency Alert Program. You will receive time-sensitive messages wherever you specify, such as your home, mobile or business phones, email address, text messages and more. You pick where, you pick how. Tillamook County Emergency Management will use the citizen alert along with landline lists to notify citizens in the event of an emergency within Tillamook County.
On October 19th, Tillamook County Emergency Management will use the Emergency Alert system to notify citizens about the earthquake drill, and then tsunami evacuation drill.
Tillamook County Shake-Out & Evacuation participants will:
Learn what you can do to get prepared – SIGN UP FOR Tillamook County Emergency alerts
Receive news and other earthquake, tsunami and emergency preparedness information
Be counted in the largest earthquake drill ever
Set an example that motivates others to participate
Mark your calendar – October 19th and great ready to Shake Out, then Move Out.  Sign up for Tillamook County Emergency Alerts, register for the Shake Out – ShakeOut.org/oregon – then get your GoBag ready, and make your evacuation plans.
For more information, contact Tillamook County Emergency Management Director Randy Thorpe, rthorpe@co.tillamook.or.us. Or contact your local Emergency Volunteer Corps:
If you live in:
Manzanita, Nehalem, Wheeler – EVCNB.org
Nedonna Beach – Nedonna Beach Neighborhood Association – Your Neighborhood Association in Nedonna Beach
Rockaway Beach – Emergency Management – City of Rockaway Beach (corb.us)
Bay City – Bay City Emergency Volunteers
Cape Meares – EMERGENCY PREPAREDNESS | Cape Meares
South County – South Tillamook County Emergency Volunteer Corps – Creating a Culture of Emergency Preparedness (southtillamookcountyevc.org)
Stay tuned for additional information on the countywide event – October 19th @10:19 am -Shake Out – Drop, Cover, Hold On; Then – Move Out to high ground and your area's tsunami evacuation area.