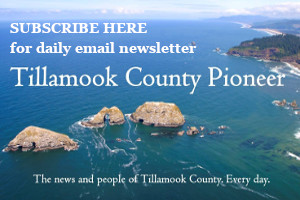 The Tillamook County Pioneer sent a series of questions to the Tillamook County Board of Commissioner candidates. We compiled these questions based on input from various community leaders. The Tillamook County Pioneer will publish the answers in a series. This is PART 2 of the six part series. Yesterday we published the candidates bios and answers to Question #1.
Here are the candidates answers to Question #2:
2. What makes you the best-qualified candidate to address those issues? And what are your solutions to these issues?
MARY FAITH BELL
There are a number of ways to approach the housing issue and our best hope is a combined effort. The County has applied for a grant that would fund a housing specialist devoted to finding creative housing solutions countywide. In the meantime the City of Tillamook is in discussions with the Chamber to apply for a Rare intern to work on housing issues within the urban growth boundary. Senator Betsy Johnson is working on changing the law that requires that 70 percent of TLT funds be spent on tourism promotion. A strong argument can be made that "tourism promotion" can and should include workforce housing as an essential element of the tourism industry. In Pacific City, The Nestucca Ridge Family of Companies is on the verge of developing workforce housing for their employees while grappling with exorbitant systems development fees. There is a lot momentum for this issue. As County Commissioner I would leverage all of my skills and relationships to bring people together and develop innovative solutions.
KARI MATTSON FLEISHER
I am dedicated, collaborative, and am results driven. I will work with other community leaders and state/federal agencies to find solutions. I would look at the county zoning to identify areas located near transportation hubs for multi-family housing, implement the multi-family and vertical housing tax exemption programs to incentivize private investment. For budget issues, I will work with the state and other county leaders to get the Oregon laws updated to reflect current and future needs possibly to include property taxes, forestry, tourism, lottery and transportation funding.
DAVID MCCALL
I value stakeholder involvement, collaborative solutions, transparency, and effective communications. I have been a successful business owner and manager, and know how to engage others, own an issue, design solutions, and produce results.
Bringing new perspectives to the County, I will try new, innovative approaches to addressing existing problems.
A firm commitment to a strategic plan will enable the county government to focus on core issues and departments, and regain financial stability. Such a plan will also empower us to pursue additional revenue opportunities, especially those that lead to a sustainable economy.
AARON PALTER
I am the best-qualified candidate to serve as your next county commissioner. My experience allows me to get right to work with the other two commissioners. Having worked in community development, the commissioners' office, public works and solid waste – and in my current position at the Port of Tillamook Bay – I'm well versed in public meetings and procurement law, budgets and many other aspects important to serving as commissioner. From Day One, I'll utilize my governmental relationships at the local, state and federal level to advocate with the rest of the commission against the devastating impacts these decisions will have on our citizens to minimize and/or avoid implementation of such policies/practices. Budget-wise, hard conversations are required now to initiate a proactive plan to stave off the coming crisis. I'll work with the commission and county staff to balance expenditures with mandated services ensuring county remains fiscally responsible to our citizens.
WALT PORTER
Tillamook County needs diversity on the board of County Commissioners. As a retired Dairy farmer and civic servant, I will bring this diversity to Tillamook County. My work ethics, diligence at working hard, the ability to listen to others and research the issues are qualifications I will bring to this county. Living in Tillamook County my entire life and watching it grow and change lends me an upper hand to the ongoing struggles within the County.
The County does have a housing plan, I would use this information and collaborate with investors, property owners to get this plan in progress.
We need new industries in our area that would create a viable living for the citizens of this county. To do this I would work with the present commissioners to try and make Tillamook County appealing to an industry that would be the right fit for our community. We may have to offer tax incentives to entice other industries to move into the area.
With my experience on the Tillamook County Soil and Water Conservations board. I am aware of the outdated tide gates, and how costly they are to replace and the regulations the land owners are facing as they try to replace them. With my experience I would be able to work as a liaison between the Soil and Water Conservation Board, property owners, as well as the regulatory agencies.
Our infrastructure will continually need to be addressed, keeping our roads upgraded is important to our tourism industry as well as the citizens of Tillamook County.
ADAM SCHWEND
Particularly in the arena of housing, I am well versed in housing and land use policy because it's what I do every day. As a real estate broker, it is my daily work to help my clients find housing. As the chair of the Political Affairs Key Committee of the Oregon Association of Realtors, it is my job to lead the charge for policy changes to make housing more affordable to build, work to eliminate red tape and make housing more accessible. If housing is truly a priority in our county, we need to elect a commissioner who isn't going to have to start from square one on housing policy and land use, but will have the knowledge and experience to hit the ground running. As a Tillamook City Councilor, I advocated for prioritizing public safety and infrastructure repair.