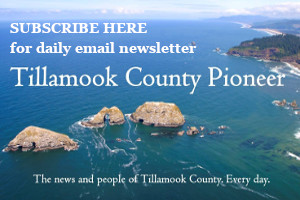 By Dana Zia, The Golightly Gourmet
"Some cases of rheumatoid arthritis have reportedly gone into complete remission from eating extremely high quantities of fresh ginger in food daily." Jean Carper
Hubby has been feeling the winter blues lately. He has been dragging around, sniffling and coughing, and asking nose muffled questions like, "It's wraining again??" "Yes dear, it rains almost all the time here on the Oregon Coast in the winter." (And sometimes the rest of the year.) "Why do you think the fearless Lewis and Clark went screaming from this place as soon as they could get over the mountains?"
As his cold descended around him like a black cloud on the Oregon Coast I took pity on him and got busy in the kitchen. Everyone has their home cooked remedies that they reach for during the winter blues, ours is ginger tea. I started making this when we lived in Hawai'i and ginger was abundant. Now it is an institution in our house.
Ginger root actually is quite amazing. It is healing in so many ways. One of the basic things that ginger does is warms the body and stimulates the immune system. It is particularly good for fevers, coughs and sore throats. In one study, ginger's cough-suppressing properties were deemed equal to codeine. Best thing ever for a cold or a flu!
Ginger also has anti-inflammatory properties and can be used to relieve pain in joints caused due to rheumatoid arthritis, osteoarthritis and rain. There are ginger capsules you can buy and take internally, which work wonders. Another great way to feel relief from those aching joints is to prepare the ginger tea and pour into your bath. This is also great for relieving the "achy breakys" from a cold or flu.
There is nothing better for gastrointestinal distress than ginger. It can remarkably decrease gas and bloating as well as sooth and relax the digestive tract. It is being used very successfully in helping people with nausea as well. Chemo patients and expectant mothers will find relief here. Once again, make that wonderful ginger tea to drink when you are having abdominal distress and you will be a believer. Ginger is also well known for helping with sea or motion sickness.
To make ginger tea, cut some ginger into ¼ inch slices, do not peel it, a lot of the healing properties are in the peel. Toss about 6 slices into a quart of water and simmer covered from 5-20 minutes, depending on how spicy you like it. Strain into a cup and add a squeeze of lemon and honey to taste. Voila! Curative in a cup.
So hobble out and buy yourself a nice big juicy root of ginger, (called a "hand") and keep it in the fridge. It will have you skipping along in no time. We always have one available for both cooking and for health reasons. Ginger has no known toxicity, so for general health and well being, consume as much as you would like.
You will love this soup recipe. It is called Thai penicillin around this house. You will discover why after one bite. It is so soothing and nourishing. Here's to healing the winter blues.
Thai coconut shrimp soup
I have shared my winter version of this soup. In the spring I love snow peas added to it. Use your imagination and remember Thai flavors aren't an exact science. Just keep adding the five cardinal flavors, hot,(sriracha) sour(lime), sweet (agave), bitter (ginger), and salty(fish sauce or soy sauce), till you get the right balance for you taste. You can get the fish sauce, green curry and the Sriracha at any grocery store in the Asian food section.
1 large onion chopped
2-5 cloves of garlic minced
1 tablespoon of coconut oil or olive oil
1 32 oz container of low sodium chicken broth
1 can of coconut milk (not light!)
2 – 3 teaspoons of green curry paste
1 to 2 tablespoon of fresh grated ginger
1- 2 tablespoons of fish sauce
1-3 tablespoons of agave syrup or sugar
Juice of one or two limes
Soy sauce to taste
Sriracha to taste (Huy Fong is the best)
Or hot sauce of your choice
1 pound of wild caught shrimp shelled and deveined
Or 1 pound of cut up chicken breasts
2 cups of sliced white button mushrooms
1 small can of water sliced chestnuts, drained
A big bunch of kale or chard chopped bite sized
Chopped cilantro
Get out your favorite soup pot and melt the oil on medium high. Add the garlic and onions and sauté till fragrant. (Add the chopped chicken breast here if using that, and cook till done.) Add the chicken broth, coconut milk and green curry paste. Then add one tablespoon of ginger, 1 tablespoon of agave, and the juice of one lime. Add 1 tablespoon of soy sauce, a squirt of Sriracha and taste. Here is where you need to use your tastebuds to figure out the right balance of flavors here. Does it need more ginger? Agave? More lime juice? How about soy sauce or heat? I usually like more lime. It really adds that great Thai taste. Experimenting is the only way you will figure it out.
Once you have the right balance of flavors, add the mushrooms and the shrimp and simmer for about 5 minutes till the shrimp turn bright pink. Next toss in the water chestnuts and the chopped kale. Cook for just a few more minutes till the kale is wilted. (If you use rainbow chard, like I did, your soup my get a pink cast to it.) Serve up in nice deep bowls, sprinkled with cilantro and lime wedges on the side.