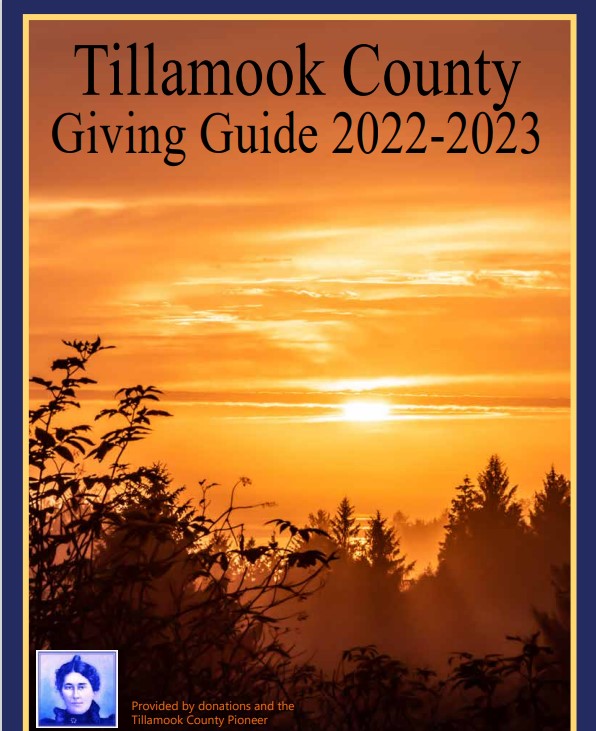 EDITOR'S NOTE: See the video link below.
By Don Backman for the Tillamook County Pioneer
At noon, on October 24th, over 150 people from the local communities assembled at Hydrangea Ranch on the Kilchis River. They were there to listen to Pat Zweifel, owner of Hydrangea Ranch and a well known distance runner and coach, speak about his hopes and plans for the now-closed Alderbrook Golf Course. The group sitting in the chairs in the big barn represented a wide swath of Tillamook County. Zweifel had invited everyone interested in re-opening the currently closed golf course to attend and enjoy a light lunch.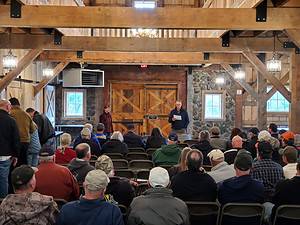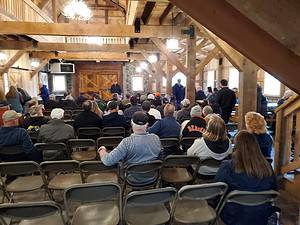 Many people are familiar with Zweifel's Hydrangea Ranch which is located beside the Kilchis River and specializes in flowers and related floral items and is a popular destination for weddings. In the late summer, it hosts the Ultimook running camps and the Ultimook Race, which involves over 2500 cross-country athletes and over 2000 spectators. In addition, there is the popular pumpkin patch and corn maze.
"I want to be remembered most for my family, my character, and my values," Zweifel began, as he talked about his plans and dreams for the now-closed golf course. "I want to create a well-managed 18-hole golf course that will attract golfers from two hours away." He went on to explain that it would take more than playing golf to make the course viable, and coined the phrase "Golf, Gardens, and Gatherings," in describing his vision.  Zweifel also explained that Mike Lehman, who was the owner of the popular Bay Breeze golf course that used to be across from the Tillamook Cheese Factory, has agreed to be his mentor.
"What makes this destination survive, it's got to be more than just golf," he told the group. "Tillamook (itself) is not going to sustain a golf course." He discussed the need to draw from a wider radius, and to have other attractions, such as landscaping attractions including flowers and family activities. The course would lease the restaurant to a local restaurant operator and would provide "good quality food at a reasonable price."
Zweifel described the need for a long-term commitment. He described a 3 to 5-year plan to upgrade the facility and turn it into a destination. "Plants take time to grow," he explained, describing not just the landscaping, but the infrastructure as well. The upper 20 acres are zoned for rural residential. "I'd rather not have houses there," he went on to say, describing the numerous possibilities, such as expanding the course, creating an attraction like Burchart Gardens in British Columbia, or developing other attractions.
To do this, Zweifel needs to raise the $200,000 down, and has $100,000 available to go to work getting things operational, and would need to raise 1.5 million more within a year.
To make this all work, he needs a partner. "I need someone who shares my vision and can help fine-tune into creating Alderbrook as an amazing destination golf, garden, and gathering place," Pat said, describing his perfect partner.
He also needs the community. "We need people to tell their friends about Alderbrook Golf Course," he said. "We need to form a committee to work on raising funds and to help with ideas for development and operation. Depending a bit on my potential partner and what we decide, I anticipate having a community fundraising element to raise $1 million. I would aim to have an avenue for tax-deductible donations. I can offer lifetime memberships for some level of donation as well as a brick, or concrete square commemorating their investment into the next 100 years for Alderbrook. However, I need help with this part of things and that's why I would like a committee formed to find the best way to do this."
If you are interested in seeing the golf course open again and would like to take part, visit the website for Hydrangea Ranch at Oregon Coastal Flowers https://hydrangearanch.oregoncoastalflowers.com/10-24-22-golf-course-community-meeting/ and sign up for the contact list. If you would like to be a partner, Pat Zweifel at Hydrangea Ranch would like to talk with you – email to patrickzweifel@gmail.com.