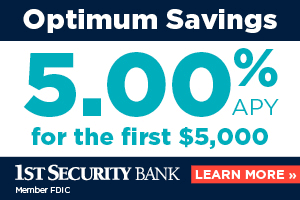 By Dana Zia, The Golightly Gourmet
"Thanksgiving was never meant to be shut up in a single day." ~Robert Caspar Lintner
Here is an historical twist: there were no sweet potatoes at the first Thanksgiving in 1621. Nope, none at all. There isn't any evidence of this South American native being cultivated in North America till 1648. Another interesting tidbit is the sweet potato and the yam are not the same thing. In fact, they are not even in the same family. The true yam is a GIANT tuber that looks like an elephant's trunk, grown mostly in Africa. It is still a curiosity in our culinary culture that very few North Americans have ever seen here. So, any sweet potato thingy you see or eat here, is just that, a sweet potato.
Sweet potatoes are one of those veggies that everyone should eat once a week or more due to their nutritional power and low calories. They are chocked full of antioxidants, beta carotene, Vit. C and fiber, along with being a good source of copper, vitamin B6, potassium and iron. The darker the flesh of the potato the more antioxidants are present. They go well in most any dish, so sweet potato away!
This recipe has been an added Thanksgiving tradition in our family for the last 2 decades after being introduced to us by Julie Barker, owner of "Buttercup" in Nehalem. I have tweaked it a bit too, because I can't help myself, but it is pretty close to the original. I highly suggest using arugula only, but mixed greens are also good. It perfectly complements all the flavors of the Thanksgiving meal.
You may prepare the sweet potatoes, mapled pecans, and maple dressing a few days in advance for ease. Keep the sweet potatoes and maple dressing in the fridge till you use and hide the pecans from yourself. (I'm serious) Have a wonderful Thanksgiving my friends.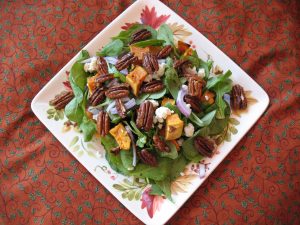 Sweet Potato Salad with Maple Dressing
10 cups, give or take, of arugula or mixed baby greens
2 cups of roasted sweet potato cubes
¼ to ½ cup of red onion slices
½ cup of mapled pecans, chopped
½ cup of dried cranberries (optional but awesome)
½ cup of feta cheese, preferably sheep or goat
Preheat your oven to 350 degrees. Cut the peeled sweet potato into about ½ inch cubes and put in a pan with sides. Spray the top of the sweet potatoes with a olive oil cooking spray then sprinkle with a bit of salt and pepper. Toss well and bake for about 20 to 25 minutes, stirring a few times till pierced easily with a fork. Set aside these little jewels to cool.
Place your greens in your most special salad bowl and toss in the sweet potatoes, and the onion. If you wish to dress the salad before serving, now is the time. Sprinkle the pecans and feta cheese over the salad. Save a few whole pecans halves for the top of the salad for that extra eye candy. Sometimes I place the dressing, mapled pecans and feta cheese in their own bowls next to the salad so folks can add these to their own taste. This recipe makes 6 servings.
Here is the salad dressing we live on all winter. It is so good on every salad but particularly shines in this one.
Maple Dressing
¼ cup of mayo
¼ cup of pure maple syrup
¼ cup of apple cider vinegar
¼ cup of oil, preferably a nut oil, like walnut
1 large shallot, chopped fine
1 tablespoon of Dijon mustard
1 tablespoon of fresh rosemary, finely chopped
1 tablespoon of fresh thyme
Put all the ingredients into the blender and let her rip! Process for about 1 minute till well blended.
Mapled Pecans
These mapled pecans are so delicious you will want to make extra or you will eat all of them before you get them to the salad.
1 cup of pecan halves
2 tablespoons of maple syrup
Heat oven to 350 degrees. Place the pecans in a small bowl and drizzle the maple syrup over them and mix well till the syrup is hugging all the pecans in a sweet embrace. Put the pecans on a cookie sheet that has been lined with parchment paper and bake about 10 minutes, stirring once, till the maple syrup begins to bubble. Remove from the oven and stir once before they are cool.