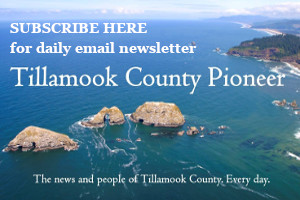 Tillamook County — On Friday March 13, Tillamook County Sheriff Lieutenant Gordon McCraw announced his candidacy in the November 2020 election for Tillamook County Sheriff, the seat currently held by Sheriff Jim Horton. Horton was appointed to Sheriff by the Tillamook County Board of Commissioners in August of 2019 upon the retirement of Sheriff Andy Long. Sheriff Horton recently announced that due to personal and family reasons, he was withdrawing from the race for Sheriff in the upcoming election.
Lt. McCraw, who currently serves as a Lieutenant in the Executive Staff of the Sheriff's Office as well as the Director of Emergency Management for the county said, "Sheriff Horton recently approached me to say he would not be continuing in the election and asked if I would run in his place?" McCraw, said that he would be honored to run for the office.
Lt. McCraw came to Tillamook County in 2006 after he and his family decided to move out of the New Orleans area after Hurricane Katrina. Lt. McCraw had been a Police Patrolman in the City of Gretna, Louisiana, just outside of New Orleans, and was recruited by Sheriff Anderson at the time, to come to Tillamook County. McCraw graduated from the Police Academy in 1996 and was a Patrol Sergeant and Senior Crime Scene Technician for the City at the time of his transfer. McCraw has ties to Tillamook through his wife's Heidi (Schneidecker) family at the time. She had wanted to move back to the area for some time. Prior to becoming a Law Enforcement Officer, McCraw was on Active Duty US Navy, 10 years as an Air Traffic Controller, and 10 years as an Aviation Forecaster, retiring as the Chief in Charge of the New Orleans Air Station Weather Office. About two years after his arrival, McCraw was appointed as the Director of Emergency Management where he has assisted the county through numerous severe weather events.
The candidate, Gordon McCraw, says that he has always given 110% to all he does. "Many already know my dedication to Tillamook County through my Gordon's Update pages, Nixle, and my social media presence. I would continue to demonstrate the drive displayed during my time as your Emergency Manager into my new position." He said, "As your Sheriff, I would work hard to continue the progress the Sheriff's Office has seen in the past few years under the leadership of Andy Long and Jim Horton. There are many challenges in the county, and I hope to provide the necessary leadership to meet and overcome these challenges. I have learned that relationships are primary and know that I carry no biases, we will work as a team!"
He said he would continue to work on achieving 24-hour patrol service for the increasing population and tourism of Tillamook County. Lt. McCraw said, "There is much work to be done with regards to addressing drug and mental health issues in the county. Homelessness is an increasing law enforcement problem throughout the state and even in Tillamook County. I have formed many relationships over the years as your Emergency Manager. I am certain these partnerships will help tackle the ongoing problems in our county. The Sheriff's Office has made great strides over the past few years. I am proud of where we are currently and eager to take it even further."
These values are why Sheriff Horton and many others think that Gordon McCraw is the best choice to be the next Sheriff of Tillamook County!