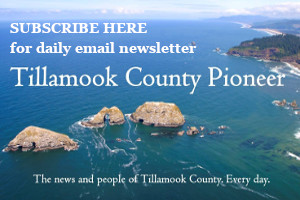 By Gordon McCraw, Meteorologist for Tillamook County Pioneer
Wednesday, July 6, 2022, 07:20am
Weather
That upper level trough of low pressure remains off the coast and continues to occasionally send disturbances northeastward across the region. This in turn causes periods of showers as they also move northeastward across the area.  This morning the radar shows a line of showers holding north-south in the valley with the individual cells moving northeastward along this line. With daytime heating though, our area has a slight chance of a light shower later today also. Winds today becoming southwestward 5-10, highs near 69. Mostly cloudy and dry tonight, calm winds, lows near 55.
Tomorrow, July 7th, will be another mostly cloudy day with a slight chance of showers as the trough starts to inch eastward, winds becoming northwestward 5-10, highs near 69, the winds diminish again tomorrow night and with all the moisture and high pressure starting to build in as the trough slides further east of the area, we could see some patchy fog late tomorrow night, lows near 53.
High pressure continues to build Friday, so we see some mostly sunny skies after the patchy morning fog clears, winds becoming northwesterly 5-10 again, highs up near 72, then look for mostly sunny skies again Saturday, the high near 71, lows near 53.
The warmup continues Sunday as the ridge of high pressure continues to build so we can expect sunny skies, the high near 73, then sunny again Monday, the high peaks up near 79, mostly clear nights still, lows near 56. It doesn't look quite as warm Tuesday, the high near 73.