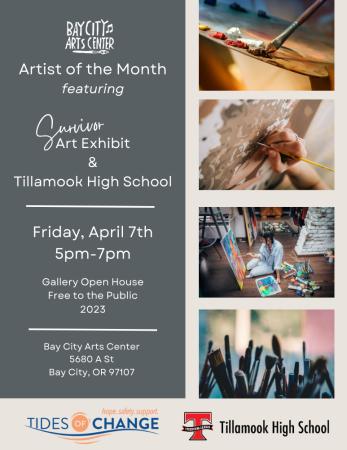 By Gordon McCraw, Tillamook County Emergency Manager
Tuesday, September 28, 2021, 10:00am
Weather
Another day of showers as unstable air from an upper level low pressure trough continues over the region. There also continued to be an occasional lightning strike detected overnight, mainly over the coastal waters. The trough will slide east of us by the afternoon taking the lightning concerns with it though we will continue to see the scattered showers persist before becoming more widely scattered tonight.  Winds today southerly 5-10 eases tonight also, highs today only near 57, tonight's lows near 46.
The rain and breezy beach winds return tomorrow as another low pressure area currently in the Gulf of Alaska drops down along the Oregon Coast.  Locally we see easterly winds 5-10, highs near 60, lows near 52. The mainly light rain continues Thursday but transitions over to scattered showers Thursday night that diminish after midnight as another high pressure ridge builds in.  High Thursday near 63, lows near 45.
Friday on the ridge dominates the weather for the remainder of the weekend and actually into the start of next week.  This means we will see mostly sunny days with highs up near 70 over the weekend, and partly cloudy nights with lows in the upper 40s.
COVID-19 News
On today's Community Update, I learned that Adventist Hospital current has three COVID cases admitted.  This is consistent with the falling numbers of COVID related hospitalizations around the state. The Community Health Center (Public Health) said there were 11 cases reported over the weekend (9/24-9/26), which is lower than the previous weekend.  The 7-day total for last week was 44 which is half of the previous week's total.  For the month that is nearly over, we have had 374 positive cases of which 237 were unvaccinated, 58 were status unknown, and 79 were vaccinated.  For September, the states positivity rate was 76.8% unvaccinated, 23.2% breakthrough cases, Tillamook County stood at 75% unvaccinated and 25% breakthrough.
It was also reported that Tillamook County has experienced another COVID related death that has not been officially confirmed yet.  When it is it will bring our total to 24 deaths, 19 of those since August 1st.
As many may recall, around the middle of last month, Tillamook County experienced a large surge of COVID Deaths, 7 occurred in only one week.  This spike, when combined with other non-COVID related deaths during that period, put our funeral home at or just above capacity.  This is when I contacted Oregon Emergency Management (OEM) with a request for a morgue trailer that could be used to expand their capacity. It took about a week but through a signed agreement, we were able to obtain one owned by Klamath County.  I am happy to report that we never actually had to use, that would have meant some very bad news for Tillamook County's death count. I received a call this week, Harney County is now experiencing a spike similar to ours and being a small county, this is now having a bad impact on their capacity limits. We are making arrangements to have the trailer moved, for use by Harney County. I hope that their numbers experience the same decline that we saw with ours.  I want to thank Wauds who was instrumental, through their hard work, in both making me aware of the issue, and working very hard through weekends and holidays to keep the numbers below their capacity limits so we did not have to use the trailer.  A special thanks to Klamath County also for their generous support and assistance, as well as OEM for the coordination.