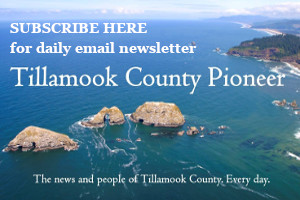 By Gordon McCraw, Meteorologist for Tillamook County Pioneer
Monday, July 11, 2022, 09:20am
Weather
A look at the satellite picture tells us, without a cloud in the sky anywhere in or near Oregon, we will see lots of sunshine and with the strong ridge of high pressure over the area we can expect a decent warmup also. The good news, today will be the warmest, but we will not get as hot as the last heatwave, and this one is just a one-dayer. So, we are already seeing the sunny skies, winds today becoming westerly 8-12 gusting to 20, that afternoon high up near 82. (EDITOR'S NOTE: Well, I believe most areas got above this … it's 95+ in the shade at my house on Hwy. 53 at 3:20 pm FYI.)
Then, mostly clear skies tonight, north winds 8-12 gusting to 20, lows near 56.
Tomorrow an upper level trough of low pressure drops down towards coast near British Columbia and this would weaken the ridge and then enhance the onshore flow, pushing in the marine layer Tomorrow night. So this would lead to mostly sunny skies Tuesday, winds becoming westerly 10-15 gusting to 30, highs near 71, in comes the marine layer Tuesday night, winds ease, becoming westerly 5-10 gusting to 15, lows near 54.
With the thickened marine layer, you could see some patchy morning mist or drizzle.  The Marine clouds will be slow to burn back Wednesday so looks for partly sunny skies, winds northerly 5-10, the high near 69, partly cloudy skies remain Wednesday night, lows near 53.
By Thursday the ridge builds back towards the area, and we see mostly sunny skies again Thursday and Friday with afternoon highs near 73, mostly clear nights, lows near 55.
As for the weekend, the ridge gets pushed east some by an upper level trough to our west. The end result, Saturday and Sunday should be partly sunny and around 70 with partly cloudy nights, lows near 55.
COVID Forecast shows rise in cases, hospitalizations as BA.4 and BA.5 Omicron subvariants spread
OHSU released a new COVID-19 forecast on July 7th showing a rise in COVID-19 cases and related hospitalizations and deaths in the next few weeks due to the spread of Omicron variants BA.4 and BA.5. By mid-July, at the expected peak, infection rates may be similar to the Omicron wave last winter.
The model shows BA.4 and BA.5 began growing in predominance in early May. The two Omicron subvariants are the most transmissible of the COVID-19 variants so far.
At last report, 423 people in Oregon are hospitalized with COVID-19. The report indicates that number may rise to 479 by mid-July. Deaths are also expected to rise.
To keep yourself safe from COVID-19, wear a mask in crowded indoor places and stay up to date with all your vaccinations and boosters. Everyone 6 months and older is eligible for an initial series of COVID-19 vaccinations, and everyone 5 and older is eligible for one booster. For more information about second boosters and recommendations for immunocompromised people, check out our website. If you need help finding a vaccine or booster, see our vaccination site blog.