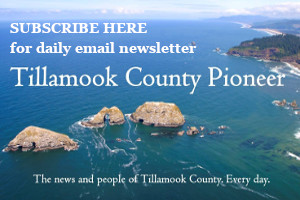 By Gordon McCraw, Meteorologist for the Tillamook County Pioneer
Monday, July 25, 2022, 07:45am
Well, the high pressure ridge is to build in this week bringing elevated temperature to the area, especially over in the valley. Enjoy the morning dense fog and clouds as they will burn off leaving mostly sunny skies today, and with the onshore flow easing with the winds becoming westerly 4-8 today, the high will climb to around 79 degrees. Look for the patchy fog to return tonight with calm winds, not as much of the marine clouds, lows near 55.
Tomorrow any clouds and patchy fog will burn back leaving mostly sunny skies again, winds westerly 5-10, the high does make it to or near 80. Tomorrow night is a repeat, increasing clouds and patchy fog develops, calm winds, the low near 55. Now, there is a chance that the smoke from the fires in California could get pushed northward in the upper levels and if this was thick enough, it could block some of the sun and lower the highs a degree or two, but this is an anomaly at this point. If you are headed over into the valley tomorrow, be prepared, you can expect to see afternoon highs in the triple digits!
Wednesday, we see a weak disturbance moving across the area giving us partly sunny skies, we still have the weak onshore flow so a combination of a slight weakening of the ridge and the onshore flow means the high Wednesday only around 75, the marine clouds move that night, calm winds, lows near 56.
Thursday and Friday it appears we will see more disturbances riding over the ridge, so the weather stays about the same, mostly sunny days with highs in the mid 70s, and partly cloudy nights with lows around 56.
The weekend looks pretty similar though it looks like the ridge will weaken a little more, so partly sunny days with highs near 73, partly cloudy nights still, lows near 56.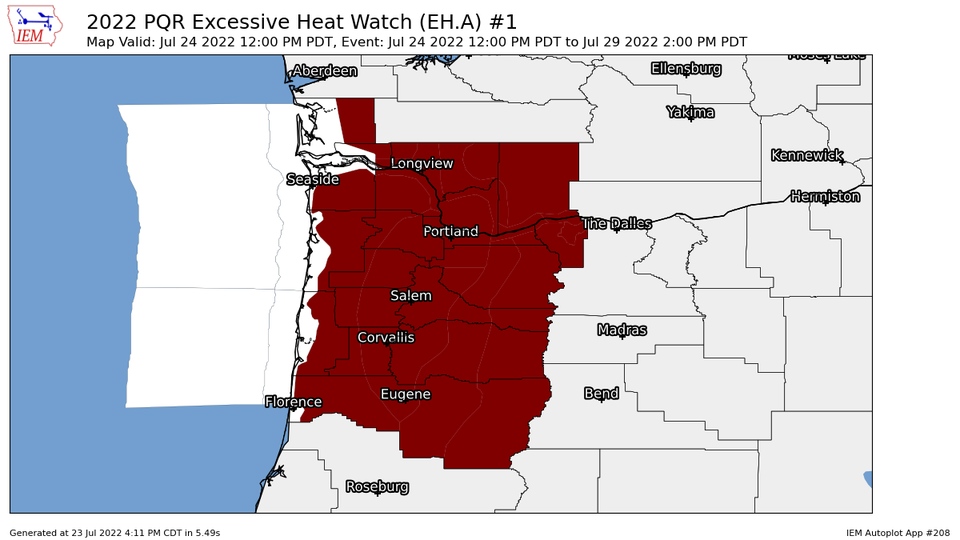 As far as Advisories, Watches and Warning go, Tillamook has a Heat Advisory out for the Coast Range eastward in effect from noon today Monday July 25th thru 9PM Thursday. The North Valley area has an Excessive Heat Warning in effect from noon today thru 9PM Thursday. There is also an Excessive Heat Watch for areas in the high desert effective from tomorrow morning thru Friday evening. In other words, it will be pretty warm at the coast but hot from the Coast Range eastward.
Some precautions and preparedness actions recommended by the NWS include drinking plenty of fluids, stay in an air-conditioned room, stay out of the sun, and check up on relatives and neighbors. Young children and pets should never be left unattended in vehicles under any circumstances.
Take extra precautions if you work or spend time outside. Wear sunscreen and when possible, reschedule strenuous activities to early morning or evening. Know the signs and symptoms of heat exhaustion and heat stroke. Wear lightweight and loose fitting clothing when possible. To reduce risk during outdoor work, the Occupational Safety and Health Administration recommends scheduling frequent rest breaks in shaded or air conditioned environments. Anyone overcome by heat should be moved to a cool and shaded location.
Heat stroke is an emergency! Call 9 1 1.