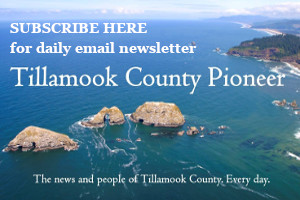 By Gordon McCraw, Meteorologist for the Tillamook County Pioneer
Saturday's Update: Well, see below the river hydrographs for the numbers and crests. The good news is they have all gone below Flood and Action Stages so all Flood Watches and Warnings have been cancelled. Looking at the numbers, it appears the Tillamook area got between 4 to 7″ of rain and up towards the Lee's Camp area received 7 to 9″ of rain, all in the last 24 hours; the Nehalem Fish Hatchery had 7.5″ of rain and reported that the river is "unfishable" today at 80″. Reports of 7.35″ on the Miami River. Hwy. 101 is currently (11 am) closed in Tillamook due to high water with the Wilson River Loop detour in place.
By the way, Astoria broke their record for the day with 4.07″ of rain.
The front is now south of the area, in southern Oregon, and we are into the colder, unstable air that is pouring in behind the front. So we are seeing scattered showers moving southeastward thru the area bringing light to moderate showers. Winds today westerly 10-15 gusting to 20 and the high near 51.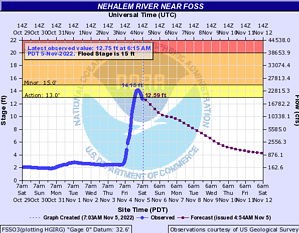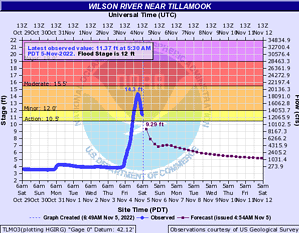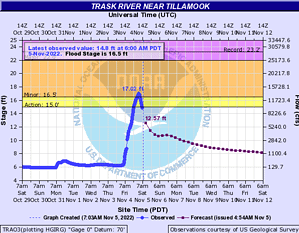 With a trough moving into the area tonight, the area can expect some moderate showers with a chance of thunderstorms and occasional small hail also. Winds will increase to 10-20 gusting to 30 and the low drops to 39. The snow level will be dropping overnight to around 2500′.
Know that tomorrow the snow level continues to drop, then hover near 2000′ with more showers and possible thunderstorms, still breezy. Then tomorrow night, more of the same, the low gets down to near 35.
Next week the snow level continues to fall, along with the temperatures, and with nighttime lows falling below freezing, low level snow is possible as well as icy roads. The passes will be seeing accumulating snow for much of the week, melting during the day then refreezing at night in certain locations. Plan your trips accordingly, after looking at Tripcheck and the Weather!