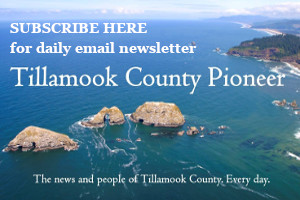 By Gordon McCraw, Tillamook County Emergency Manager
Weather
We have what is referred to as a dirty ridge today. There is a slight chance of some light, brief showers today with the winds becoming southwesterly 5-10, the afternoon high near 62. We do have an approaching decent, summer front coming that will push in the rain overnight tonight, after midnight.
So, tomorrow (Friday) will be rainy and becoming breezy as the front approaches the coast, winds becoming easterly to start, 8-12 gusting to 25, then becoming southerly 5-10 gusting to 20 with the front itself tomorrow night, highs near 60, lows near 51.
The front will likely slow or stall which will allow disturbances to ride in the southwesterly flow so look for periods of rain Saturday, Sunday on into Monday. If this were the winter, this atmospheric river event would be giving us some heavy rain and flooding concern. This being more like summer, we can expect maybe ½" of rain though if just the right conditions develop, the Coast Range could see over an inch, maybe even 2" of rain from the weekend thru Monday.
The longer range models show the front being kicked out Monday night into Tuesday so we could expect some post-frontal scattered showers Tuesday follow by a high pressure ridge bringing sunny skies Wednesday with highs up near 70, lows near 49.
2021 Developing Drought Conditions
Yes, even though the next few days will be bringing us some welcomed rain, it will still not keep us from the expected drought conditions forecasted for this summer. With the below-average rainy spring and the rapid snow runoff, there is a good chance that this will be the worse conditions seen for quite some time and in fact, for much of the area, the March-April-May timeframe is the driest on record.
The lack of rain has resulted in some very low streamflow's with flows comparable to the 2015 low levels. The low levels can cause warmer than normal waters that is not good for some of the aquatic species. It is reported that the forest conditions in some areas are already similar to what is normally seen in July or August. The impacts from this will obviously send our fire dangers to extreme much sooner than usual. Below is a good example of where we stand in the last report. The upcoming rain will help by delaying the conditions some, but it won't last.
…NW Oregon Coastal…
River Apr-Sep Fcst (thousands acre/ft.) % of normal Ranking
Nehalem R near Foss 123 37 Lowest
Siletz R at Siletz 80 40 Lowest
Siuslaw R near Mapleton 99 36 Lowest
Trask R near Tillamook 62 43 Lowest
Wilson R near Tillamook 66 43 Lowest
Unsubscribe