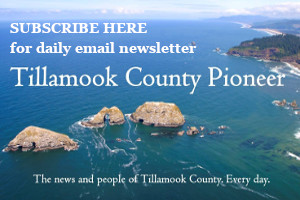 Tuesday, January 10, 2023
Weather
Well, yesterday's system is now up into British Columbia while the next low pressure area in the cue is west of central Oregon and pulling some light rain or rainshowers up northward across the region. So, after a partly sunny day today, look for increasing clouds with a slight chance of some light precipitation tonight, the winds becoming southeasterly 10-15 gusting to 25, tonight's low near 41.
Hot on the heels of tonight thru tomorrow morning's system is yet another one approaching tomorrow bringing more clouds and some rain by the afternoon, winds becoming southeasterly 8-12 gusting to 20, highs near 54, rainy and breezy tomorrow night, winds easterly 10-15 gusting to 25, lows near 45. We can also expect the seas to build again tomorrow night into Thursday with Gale Force winds returningm offshore tomorrow afternoon. This will bring elevated seas nearshore that peak Thursday afternoon with breakers possibly reaching 25-30'. This will again give us hazardous conditions in the surf areas including all bars.
Thursday the jet stream reorients itself and the atmospheric river that has plagued California will shift northward into Oregon. Fortunately, for us, it looks to stay in the low to moderate range, bringing maybe an inch of rain into the Coast Range. All that to say, Thursday will be rainy and breezy with southerly winds 14-18 gusting to 25, highs near 56, lows near 48.
It looks like Friday on into the weekend the jet stream returns to a zonal, or west to east orientation which means a return to the low train again where more low pressure areas spin up and get pushed eastward towards the California coast then turn northward and stay just off the coast as they weaken, giving us periods of rain and winds as they past west of our area.
It appears hydrological concerns will remain low throughout this forecast period.