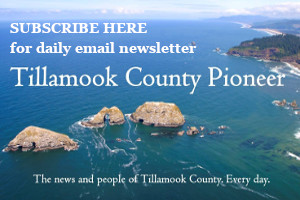 By Gordon McCraw, Meteorologist for the Tillamook County Pioneer
Monday, January 16, 2023
We continue to talk about low pressure areas affecting our weather. Today there was a weak low pressure over Washington that will continue to cause some light drizzle and light rain or rainshowers across the area into tomorrow morning. So, we can expect more scattered showers thru tonight with light winds and a low near 39.
Tomorrow the shower activity eases but another front pushes in the rain again later in the afternoon or early evening with westerly winds becoming southerly 4-8, the high only near 49. Cloudy and rainy tomorrow night with the southerly winds increasing to 5-10 gusting to 25, lows near 41.
We see some post-frontal showers Wednesday, the snow level lowering to around 2500' with southerly winds 5-10 gusting to 25 but becoming more westerly and easing in the afternoon as high pressure starts to build in, the high near 47. Only a 50/50 shot at showers still that night, light winds, lows near 37, the snow level still at around 2500'.
Partly sunny Thursday, only a slight chance of a light shower that morning, the afternoon high near 48, with partly cloudy skies allowing for radiational cooling Thursday night, the low drops to near 36.
A partly sunny and dry day again Friday, the high near 48, a few more clouds move in Friday night, the low around 38. As for the rest of the weekend, the models are starting to show a ridge developing in the eastern Pacific which would put us under a trough of low pressure. This would mean an end to the, what appeared to be, never ending series of jet driven low pressure systems that have been bring us rain. It does however, mean that we could return to widely scattered showery weather with an occasional front then a ridge of high pressure moving across bringing dry weather between systems. Who knows, next week could be more dry than wet for a change …