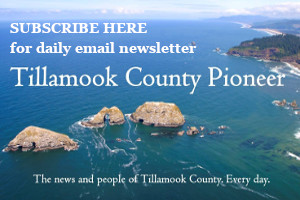 By Gordon McCraw, Meteorologist for the Tillamook County Pioneer
Friday, January 20, 2023
The ridge of high pressure and relatively clear skies again helped the temperatures to dip down to around 32 degrees last night and early this morning. The ridge is also pushing the approaching system to the north, but some moisture is riding up over the ridge then dropping southeastward. This means tonight will start out mostly clear but then we see some clouds moving in with light southeasterly surface winds, the low again drops to near 35.
By early Saturday morning the chance of showers starts to increase with scattered showers likely by the afternoon tomorrow as a weak system moves through. It will also become breezy with southeasterly winds 8-12 gusting to 25, the high near 51. The shower activity becomes more scattered tomorrow night, winds becoming westerly 5-10, lows near 39.
Another weak system passing to the east gives us increased cloudiness and a slight chance of showers again Sunday but even that diminishes later in the day, winds northwesterly 5-10, the high near 49, then a mostly cloudy but dry night, lows near 34.
Another weak system passes by Monday giving us mostly cloudy skies and again gives us a slight chance of showers as it passes thru, highs near 51, then mostly cloudy and dry Monday night as the ridge builds northward again, lows near 36.
With the ridge continuing to build in over the region, we can expect mostly sunny skies Tuesday, the high near 52. Then sunny skies Wednesday, the high pushing up near 56, and for Thursday, sunny skies, the high reaching up around 60. We see mostly clear nights, lows down around 36.
Safety alert: With the King Tides this weekend, use extra caution at the beaches. The tides will be pushing the waves further up the beach which makes the sneaker wave threat greater. Stay off logs and rocks anywhere near the surf as this is a very dangerous zone at times like this!
Here's a video featuring the Rockaway Beach and Garibaldi Fire Chiefs with some safety tips: