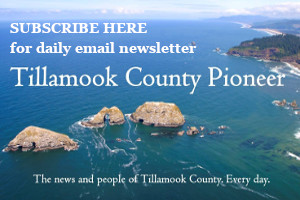 By Gordon McCraw, Meteorologist for the Tillamook County Pioneer
Monday, January 23, 2023
We saw a little mist this morning as a very weak front pushed thru. Tonight we see partly cloudy skies, some patchy fog possible late until the winds become easterly 4-8 after midnight, lows near 36.
A ridge of high pressure will keep things fair and dry starting tomorrow so becoming partly sunny after any morning fog clears, winds northwesterly 4-8, the high near 51. Then mostly cloudy tomorrow night with light winds, the lows near 38.
Wednesday looks about the same, partly sunny but with northeasterly winds 4-8, the high near 53, mostly clear skies expected Wednesday night, lows down near 36.
Thursday we see sunny skies, the high near 56, but by Thursday night the ridge starts to drift further west and builds as a disturbance drops down the east side of the ridge, towards our area, bringing in a slight chance of rain starting Thursday night, the low near 39.
Friday looks mostly cloudy with that slight chance of rain or rainshowers, the high near 50. By Friday night the ridge builds off to the west more which starts to put us under a northerly flow, so we see a slight chance of showers still Friday night, the low near 40.
Conditions don't change much over the weekend other than some cooler temperatures getting pushed down in the northerly flow so Saturday we have a mostly cloudy day with a slight chance of showers, the high near 48, lows near 34, the snow level drops to near 2500'.
Sunday looks partly sunny with the slight chance of showers still, the high only near 46, with the lows dropping to near 33, the snow level falls to near 1800', still with that slight chance of showers.
Some of the models show the flow becomes more zonal the start of next week with several disturbances then riding the flow into our area, sound a little familiar? There is still plenty of time for this to change though, and not all the models agree!