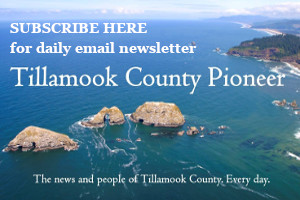 By Gordon McCraw, Meteorologist for the Tillamook County Pioneer
Tuesday, January 24, 2023
The high pressure ridge remains over the area and gave us a nice day today and will bring us a partly cloudy night with calm winds allowing the temperatures to drop to around 34 tonight.
With a very large low pressure area to our east and a sharp ridge to our west, we will be transitioning to a cool northerly flow giving us partly sunny skies tomorrow with winds becoming northwesterly 4-8, the high near 52. Look for increasing clouds tomorrow night, and with light easterly winds, the low drops to near 35.
Thursday the ridge starts to drift to the west, but we still enjoy some mostly sunny skies, winds becoming northerly 4-8 in the afternoon, highs near 53. Thursday night we see increasing clouds ahead of a front that drops down towards the area, with the clouds the lows only drop to near 43.
We have an increasing chance of showers starting early Friday morning with showers likely later in the morning from a weak front passing thru, the high near 50. We still have a chance of some light showers Friday night, lows dropping to near 39.
Cooler air gets pulled in behind the front with an increased northerly flow Saturday which maintains the threat of showers, the snow level falling to near 2500'. With the cooler temperatures dropping in we see lows possibly dropping down near 30 by early Sunday morning which would give us some icing concern from the moisture still on the ground, along with some snow flurries across the passes, as we will could still be seeing some scattered showers.
And, we have a slight chance of showers still Sunday morning so some low level flurries are possible, even with the mostly sunny skies, with some breezy east winds, the high only near 41, then with mostly clear skies Sunday night, the lows drop down to a chilly 26 degrees.
First, my usual disclaimers, the models are a little mixed on the weekends pattern, and on just how cold things will actually get, so stay tuned as the weekend forecast is subject to change. It could get even colder, or not! As for the snow, it is always about the timing and remaining moisture, this is also questionable, we may see low level snow, the variable is just how low? A few more model runs will hopefully clear up the picture…