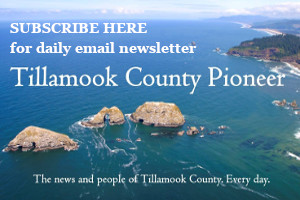 By Gordon McCraw, Meteorologist for the Tillamook County Pioneer
Wednesday, October 12, 2022
Weather
So, we continue to talk about a blocking high pressure ridge being the cause of our recent weather, or lack thereof. And what exactly is a blocking ridge? Well, it is when centers of high pressure and/or a low pressure sets up over a region in such a way that they prevent other weather systems from moving thru. Obviously, this usually leads to dry, warm weather as the air under the ridge sinks and is compressed causing the warming. In our case, throw in the flow also causing the marine layer to push in at the surface along with radiational cooling and you get the type of weather we have seen this September and now in October.
With all that said, tonight we can expect a mostly clear night with light winds, back comes the patchy fog, the lows drop back down to near 43. Then, the fog burns back leaving a sunny afternoon tomorrow, winds becoming northwesterly 4-8, highs near 71. Tomorrow night we continue to see the mostly clear skies, calm winds, maybe the patchy fog possible again, lows down near 45.
Friday looks sunny, the winds becoming northerly 5-10, highs near 70, and with some light offshore winds developing we see a mostly clear night, the low a little warmer at near 52.
The ridge drifts over top of the area Saturday and so we can expect sunny and 74, then the winds begin to shift, becoming more southerly and this brings in a few clouds so look for partly cloudy skies that night, lows near 51.
We see mostly sunny skies on Sunday, with the onshore southwesterly winds the high only up to near 66, then in comes a trough of low pressure and a weak front that will give us a slight chance of some light showers Sunday night under mostly cloudy skies, the low near 51.
The slight shower chance ends by Monday afternoon, still the mostly cloudy skies, highs only to near 63, mostly cloudy still Monday night, lows near 49.
The ridge starts to move back in by Tuesday, highs near 66, lows near 51.