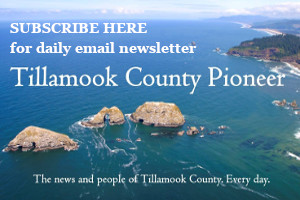 By Gordon McCraw, Meteorologist for the Tillamook County Pioneer
Friday, October 14, 2022
That high pressure ridge remains just off the coast to the west but will slowly start to drift east tonight giving us another evening with mostly clear skies with the usual patchy fog starting around midnight, and with calm winds, the low again down near 43.
Tomorrow the ridge drifts over the area, bringing easterly winds and heating things up so we see sunny skies with east winds 5-10, the high up near 78. Still the mostly clear skies tomorrow night with light easterly winds, the chance of patchy fog again late, lows only dropping to near 53.
Sunday the ridge is east of the area which causes a wind shift, bringing more southwesterly winds that start to push the marine stratus up the coast while also pushing in the cooler marine air over us. This means we see mostly sunny skies Sunday with southwesterly winds 4-8, the high only near 66. The marine clouds and patchy fog move in Sunday night, calm winds, lows near 50.
It looks like the ridge will win against the trough of low pressure that drops down from the northwest the start of next week. It does look like we stay mostly cloudy after the fog clears Monday and it could be misty for the morning commute, the high near 64, more clouds and fog Monday night, lows near 50.
Tuesday back to mostly sunny skies after the fog clears, highs near 66 then back to 70 on Wednesday under sunny skies and Thursday looks about the same, maybe a high near 68. With partly cloudy nights the low around 51.