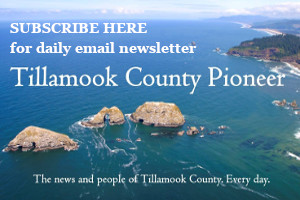 By Gordon McCraw, Meteorologist for the Tillamook County Pioneer
Monday, October 17, 2022
Weather 
We have high pressure to the east of the state and a trough of low pressure to the west, offshore, with us sandwiched between the two. This is giving us an onshore flow that continues to push in the marine clouds at night that burn back to or near the coast each afternoon.  So, back comes the clouds tonight with light winds, some patchy fog possible, lows near 47.
Becoming mostly sunny again tomorrow, mid-morning, winds becoming northerly 5-10, highs near 67.  The ridge to the east builds westward enough to give us partly cloudy skies tomorrow night and with calm winds, patchy fog is again possible, the lows near 45.
With the ridge influencing the weather Wednesday we see mostly sunny skies with the fog burning off sooner, winds becoming northerly 5-10, highs up near 70. Partly cloudy skies Wednesday night, still some patchy fog, lows near 46.
Thursday the patchy fog burns off early again leaving mostly sunny skies, but with the ridge weakening, the high only reaches around 65. Increasing clouds expected Thursday night, lows near 46.
Friday the switch gets thrown, and it looks like some more October like weather will be moving in.  With an approaching cold front, we see a chance of rain starting Friday afternoon under mostly cloudy skies, the high only near 60, then cloudy and rainy Friday night, lows near 47.  Rain amounts Friday under ½".
Saturday looks mostly cloudy with scattered showers, the high Saturday only reaches around 57, lows near 45. The weather service suggests the snow level will drop to near 4500-5000' so the Cascades will be seeing even cooler weather with some snow likely.
Sunday, it looks like another front pushes in another round of rain with the highs still down near 57, and the lows around 45.
The long range models suggests the rain eases Monday with even cooler temperatures moving in, then another system midweek.
Welcome to Fall!