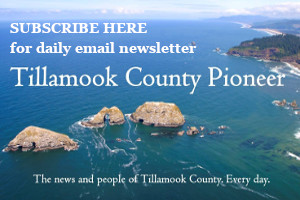 By Gordon McCraw, Meteorologist for the Tillamook County Pioneer
Wednesday, October 19, 2022
Weather
I guess after today we can say goodbye to summer as the high pressure ridge starts to move off to the west which opens us up for some decent weather systems finally! Some clouds start moving in tonight with light winds, lows near 52, then mostly cloudy tomorrow, becoming breezy with westerly winds 10-15 gusting to 20, the high near 63. Becoming cloudy overnight tomorrow, calm winds, lows down near 45.
Friday, the rain starts with an approaching cold front from the Gulf of Alaska bringing in the rain and even cooler temperatures. So, becoming rainy around lunchtime on Friday, winds becoming southeasterly 4-8, the high near 57, still rainy Friday night, lows near 46. This will be a minor atmospheric river event that will bring around ½ to ¾ "of rain to the area, maybe 1-2" in the Coast Range.
With cold, unstable air moving in behind the front Saturday we see showers that persist thru Sunday with highs near 56, lows near 43. Look for more showers Monday then another front brings in more rain on Tuesday and the models suggest the rest of next week is looking wet!
On the bright side, this likely brings an end to the Fire Season!