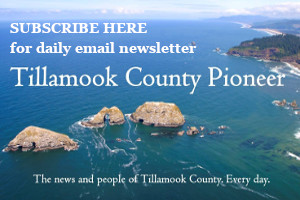 By Gordon McCraw, Meteorologist for the Tillamook County Pioneer
Monday, October 24, 2022
The systems are lined up and will bring rain then rainshowers for much of the week. A system went thru earlier today and then we transitioned to scattered showers that will persist until later tonight. The winds die off tonight, lows near 46.
Another round of rain moves in tomorrow morning then we again transition over to scattered showers with a slight chance of thunderstorms, maybe even some spotty small hail, winds tomorrow becoming southerly 5-10 gusting to 25, highs near 55, the activity continues tomorrow night, the winds ease, lows near 42. Look for another ½ to 1 inch of rain tomorrow.
Wednesday a low pressure area drops into the area and we continue to have a threat of showers with possible thunderstorms, winds becoming westerly 4-8, the high near 54. The activity eases Wednesday night into Thursday with a weak ridge of high pressure racing across, lows near 43.
The rain chance increases again Thursday night as yet another front approaches the area that many of the models suggest will stall over the area, bringing rain and maintaining the cooler temperatures thru at least Sunday, highs in the mid 50s, lows in the mid 40s.
And what is all this rain doing to the rivers? Well, they were at very low levels at the start of this change to an active pattern and even with all this rain, levels will only increase about a foot. Where is all the rain water going?? With little to no rain in a couple of months, the ground is soaking it all up!