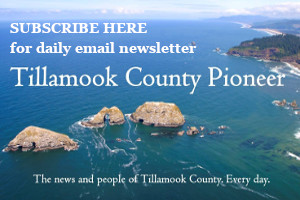 By Gordon McCraw, Meteorologist for Tillamook County Pioneer
Tuesday, October 25, 2022
And that active weather continues so look for some more showers with a slight chance of thunderstorms and that threat persist thru late tonight. Winds tonight easing, the low near 54.
The shower activity continues thru tomorrow morning then a ridge of high pressure moves across and so the showers become more widely scattered in the afternoon tomorrow. Winds will become westerly 4-8, the high near 54. Only a slight chance of showers still tomorrow night, calm winds, lows near 44.
Thursday the models are somewhat mixed about the next front. This could be another atmospheric river event as the front has a large swath of moisture and is forecasted to stall in the area. This means the rain returns Thursday afternoon, the winds increase, becoming southerly 10-15 gusting to 20, highs near 57, still cloudy and rainy Thursday night, lows near 47.
Friday on thru the weekend looks wet with cloudy skies, and rainy, highs near 57, lows near 45. It looks like the rain continues into the start of next week with Monday also looking cloudy and rainy, the high only near 55.
It looks like Mother Nature is attempting to make up for the rain deficit for the month! There are still no flooding concerns….
The morning satellite picture shows all the Pacific moisture headed towards the coast.