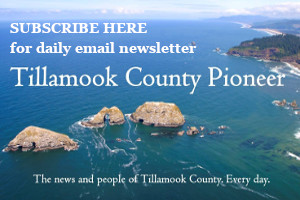 By Gordon McCraw, Meteorologist for the Tillamook County Pioneer
Friday, October 28, 2022
Another day, another cold front and atmospheric river gave us some more rain.  The ridge pushed off to the east as the front drifted across the area this morning but it has now stalled just to the south leaving us with a chance of rain still this evening and tonight. The winds tonight diminish and the low drops to near 43.
With the weak and dying front still just to the south there is a slight chance of rain tomorrow under mostly cloudy skies still, light westerly winds, highs near 58, only a 20% chance of rain still tomorrow night, light winds, lows still near 43.
It looks like Sunday the flow become more zonal, or west to east, which opens us up to another front and atmospheric river that starts out up over British Columbia. It is possible we will still see some rain from this Sunday though the core of the rain will remain to the north. Sunday night though, it looks like the front/atmospheric river will start to move to the southeast, bringing rain thru the area into Monday. Highs Sunday near 56, with the warmer southwesterly flow the lows only drop to near 48. The high Monday near 56. The system does push thru by Monday night and more unstable air pushes in, bringing showers with cooler temperatures, the lows Monday night fall to near 39.
Tuesday will be a cloudy, showery day with highs only up near 51, lows falling to near 36.  It is possible that Tuesday night into Wednesday, the snow level falls to where the higher Coast Range Mountains could actually see some snow, but levels not falling enough to see any in the passes.
So, more showers likely on Wednesday under mostly cloudy skies, highs near 51, lows near 38.  After this, the models get a little mixed, but it does look like we could see another front bringing more rain by Thursday.
Become a SKYWARN Weather Spotter
The National Weather Service welcomes volunteers with an interest in weather spotting. The SKYWARN program is a voluntary service. Reports made by spotters provide visual confirmation of potentially hazardous weather and aid forecasters in issuing warnings.
Interested? Come to a Virtual Training and Information Session!
Virtual SKYWARN Class
Friday, November 18th
5:30 PM to 7:30 PM PDT
Register here.
Virtual SKYWARN Class
Wednesday, November 23rd
5:30 PM to 7:30 PM PDT
Register here.