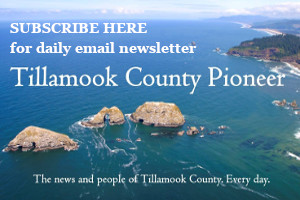 By Gordon McCraw, Meteorologist for the Tillamook County Pioneer
Wednesday, November 2, 2022
Well, with a trough of low pressure over the area, we saw more showers and a few thunderstorms. This cold, unstable airmass has also pulled the snow level down to around 2500' so snow in the higher Coast Range mountains was and continues to be likely. The thunderstorm threat diminished this evening as a ridge of high pressure moved in, this also caps the shower activity by around sunset.
With partly cloudy skies developing tonight, and with calm winds, radiational cooling will help to drop the temperature to around 34. This will also be the dewpoint which spells patchy fog and with the temperatures, frost is also likely.
We see increasing clouds tomorrow ahead of the next approaching system that starts to bring an increasing chance of rain later tomorrow afternoon, winds becoming southwesterly 5-10, the high near 50, the snow level remains around 2500'. The ridge is flattened by another trough of low pressure dropping south from the Gulf of Alaska and this opens the door for the next system to develop into a moderate to strong atmospheric river event for the area. Tomorrow night looks rainy with winds becoming southerly 8-12 gusting to 20, with the moist southerly winds, the low only near 41.
Friday the atmospheric river moves in and brings moderate to heavy rain with winds increasing to southwesterly 15-20 gusting to 30, with gusts to 40-50 possible at the beaches. This could also bring High Surf at the beaches and during periods of heavy rain, Urban and Small Stream Flooding is possible. Looking at the Tide Tables, I see that the Garibaldi tides will be running around 8.1′ Friday and peaking at 9.1' the start of next week. With high tidal anomalies, this could cause some Coastal Flooding if conditions are right. The Sneaker Wave threat will also be elevated.
The periods of heavy rain likely continue into Saturday morning along with the windy conditions, the high near 50. The good news in all this is, the trough moving down from the north likely pushes the front to the south Saturday afternoon so the rainfall rates and the winds should ease some. The river forecasts do not currently show any flooding or the rivers even reaching Action Stage, but this should still be monitored for any changes between now and then.
We see more rain Sunday from another quick moving front that cools things down again with highs in the mid 40, lows in the mid 30, and the snow level down around 2300', then Monday and Tuesday we see scattered showers again with the snow level around 2500' and slowly rising.