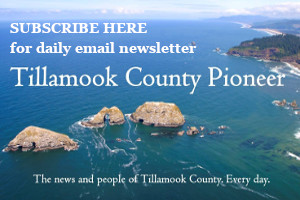 By Gordon McCraw, Meteorologist for the Tillamook County Pioneer
Monday, November 21, 2022
A pattern change is finally taking place as indicated by the increasing clouds and the diminishing east winds. The ridge of high pressure has flattened and now we see some fronts lining up to bring periods of rain this week.
Watch for increasing clouds tonight with light east winds then in comes some rain in the early morning hours and the winds begin to shift, the low only down to near 43.
Cloudy and rainy tomorrow, breezy with southerly winds 10-15 gusting to near 30, highs near 54. The rain and winds ease Tuesday evening, then we transition over to scattered showers Tuesday night, the winds southerly 4-8, lows near 42.
A ridge of high pressure moves in by Wednesday morning, capping any remaining showers, leaving mostly cloudy skies with light southeasterly winds, the highs near 55. The mostly cloudy skies continue Wednesday night, winds southeasterly 4-8, lows near 41.
The models are somewhat mixed on the timing of the next frontal system, some bring the rain in Thanksgiving night while the other hold the rain off until Friday afternoon. What this means for the forecast is, for Thanksgiving we can expect increasing clouds with a slight chance of rain that evening, highs near 58, then a better chance of seeing rain Thanksgiving night, lows near 43. The chance of rain continues into Friday, highs near 54, lows near 39.
The weekend looks cloudy and rainy with another wet system pushing in another round of rain along with some cooler temperatures, highs around 51, lows down near 39. We likely see scattered showers for the start of next week.