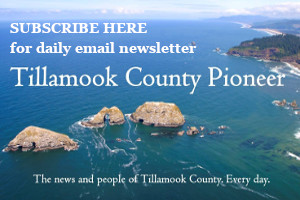 By Gordon McCraw, Meteorologist for the Tillamook County Pioneer
Tuesday, November 22, 2022
We had a front push across today that brought rain, winds, and surf. The good news was it was moving pretty quick, so the heavier rain didn't last very long. Behind the front we see the usual post-frontal showers that are becoming more widely scattered tonight as high pressure starts to build in. Winds tonight also decrease, becoming westerly 5-10, the low temperature tonight near 40.
There has been a Beach Hazards Statement issued by the National Weather Service Portland in effect from Thursday afternoon thru Thursday evening for Sneaker Wave concern. I should also mention we are coming into a period of higher tides, starting today, the high tide tomorrow reaches 9.6' in Garibaldi at 11:36AM. The high tides peaks at 9.9' Thursday and Friday between noon and 1:00PM both days. Should there be any anomalies we could expect some Coastal Tidal flooding in the usual areas as well. The good news is the river levels are not elevated so will not be adding to any Tidal Overflow issues.
Things dry out tomorrow with the ridge over the area bringing partly sunny skies and light easterly winds, the high near 55. We see partly cloudy skies tomorrow night, light east winds still, the low near 40.
Thanksgiving Day looks nice, mostly sunny skies though we do see the ridge weakening ahead of a trough of low pressure dropping down from the northwest. We still have the light easterly winds, the high climbs up to near 59. Now Thursday night more clouds start rolling in and we have a chance of rain developing by around midnight, the low near 42.
Friday, we have a little better chance of rain under cloudy skies, the high near 53. Friday night things start getting a little more interesting, we still have that chance of rain, but the snow level starts to fall as colder air moves in, with mostly cloudy skies the low drops to near 38 and the snow level drops to around 2500-3000' meaning there could be accumulating snow in the higher Coast Range mountains. If your holiday travel plans take you across the Cascades, their passes could be seeing snow as well.
Saturday, we keep the chance of rain under partly sunny skies, the high near 51, then the rain chance increases Saturday night with the trough of low pressure moving in, lows still near 38.
Sunday looks cloudy and rainy, and turning cooler, highs near 49, rainy Sunday night, the snow level down to around 2000-2500', lows dropping to near 34 degrees, then Monday, still a chance of rain with partly sunny skies, the high near 48, and then a chance of rain that night with a slight chance of a rain/snow mix in the Coast Range passes and possibly in parts of the Portland/Vancouver area as well. Low temperatures here still down around 35.