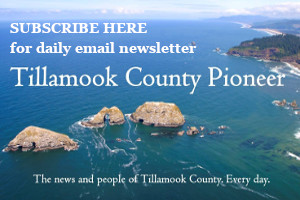 By Gordon McCraw, Meteorologist for the Tillamook County Pioneer
Thursday, November 3, 2022
Weather
Well, things are starting to take shape with the atmospheric river already developing to the north pushing rain into British Columbia down to Vancouver Island. This gave us a brief period of dry this morning but then a warm front started to bring in some light rain late this afternoon. Then tonight things will start to ramp up with the rain increasing, as well as the winds becoming southerly 14-18 gusting to 30, the temperature actually rises tonight up to around 53.
Tomorrow, Friday, the cold front/atmospheric rive starts to drift southward and bring rain, moderate, occasionally heavy, especially in the afternoon and evening over our area. For now, the core of the heaviest rain appears to be aimed at southwestern Washington, but we all know that could change with the next model run, and being this close, it wouldn't take much to have it drop into northwestern Oregon. At any rate, the forecast for now is for tomorrow to be rainy and windy, and the rain could be heavy at times, winds increase to southwesterly 20-25 gusting to 40 with gusts to 50-60 possible at the beaches. The high tomorrow around 57.
More rain tomorrow night, heavy at times as the front passes over, winds becoming westerly 20-25 gusting to 40 but becoming northwesterly 10-15 gusting to 25 after midnight, lows down to near 42. Again, I say, for now it looks like we will see somewhere around 2-4" of rain Friday with the Coast Range seeing upwards of 3-5" which would push the rivers up several feet, but the current forecast still keeps them several feet below Action Stage. Individuals and businesses in flood prone areas should keep a close eye on this for any changes though. As has been the case in the past, the timing and exactly which watershed will see how much rain is very difficult to pin down for these events. Also, during periods of heavy rain, urban and small stream flooding can occur.
So, we see more rain Saturday morning, but it will get pushed to the south by an upper level trough of low pressure and we transition back to showers, highs Saturday near 50, lows dropping down to near 38.
Sunday, we see another fast moving cold front push through so expect another rainy day with the front passing to the south by around 9PM when we again have a cold trough of low pressure bring in showers and colder surface temperatures that pushes down the snow levels also. Sunday the high near 47, lows that night near 35, the snow level around 2000-2500'. Monday more scattered showers with highs near 47, lows near 33 then Tuesday, showers, the snow level falls to near 1900', the high near 45, lows Tuesday night, still with showers, falls to near 30 so it is possible the area could see some low level snow after around midnight Tuesday.
Wednesday morning a chance of rain and/or snow showers then the snow level starts to lift to near 1000' mid morning and continue climbing to near 1700' in the afternoon. Obviously, the Coast Range Passes will be seeing accumulating snow during this time also making driving across the summit hazardous at times.
"FALL BACK" – Return to Standard Time – Sunday November 6th
A reminder also that Sunday we "Fall-Back", or shift from Daylight Savings Time back to Standard Time, officially at 2AM Sunday.