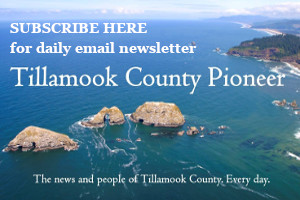 By Gordon McCraw, Meteorologist for the Tillamook County Pioneer
Tuesday, December 13, 2022
A little weather lesson today. The current weather picture is, we have a low pressure area well off to the west of northern California with another low pressure area off to the east while we have a dome of high pressure sandwiched between and over the Pacific Northwest including Tillamook. This is a pretty typical definition of a Blocking High Pressure Ridge, also known as an Omega Block because of its shape. When we get this synoptic situation, it is known to persist for several days. Attached is the actual model output showing the pattern for Thursday, showing this forecast scenario.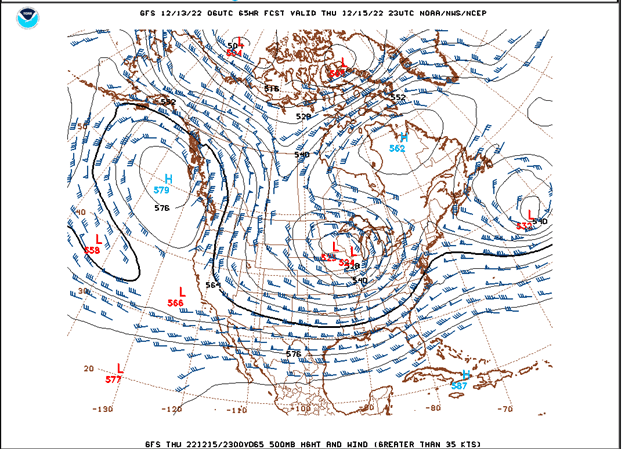 So, with high pressure over the area this evening, we see partly cloudy skies, but we likely see some patchy fog developing late, and with light east winds and radiational cooling, the low drops to near 32.
With that high pressure ridge still firmly in place, tomorrow, Thursday, and Friday look sunny, after the morning patchy fog burns off, winds northeasterly 4-8, high near 47, with mostly clear nights and light winds, the patchy early morning fog returns, lows near 31.
By Saturday the models start getting mixed. Some say the ridge holds and we stay dry and cold, others say a trough of low pressure drops down and brings some precipitation to the area. As the nighttime temperature would still be at or below freezing, some low level snow would be possible. So, Saturday and Sunday look partly to mostly cloudy with a chance of rain during the day, and a chance of snow at night when the temperature drops down near or below 32 degrees. This also spells accumulating snow possible again in the Coast Range. Even the valley could see some low level snow over the weekend on into Monday. Stay Tuned!