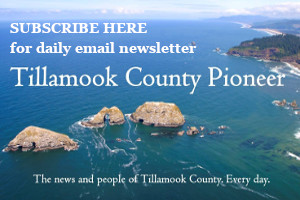 By Gordon McCraw, Meteorologist for the Tillamook County Pioneer
Wednesday, December 21, 2022
As expected, we had a high pressure ridge bringing us a cool but dry day today but now we see increasing clouds moving in ahead of a front that will bring some snow and ice tomorrow. We still expect an Arctic airmass to drop down into central and eastern Oregon, and with a very strong dome of high pressure associated with this very cold air, we will see some unusually strong, at least for this time of year, easterly winds developing tonight, seeing winds 15-20 gusting to 35.  With these winds and the overnight low dropping down to near 20, the windchill factor could drop into the low single digits. At these temperatures, the cold wind chills could cause frostbite on exposed skin in as little as 30 minutes.
So, tomorrow, Thursday, starts out cloudy, cold, and windy, but dry, winds still easterly 15-20 gusting to 30, with the afternoon high only up to near 31. The Pacific moisture moves in tomorrow afternoon or evening and will start out as snow, but the snow will quickly transition to sleet then freezing rain as warmer air pushes in over the cold surface air tomorrow night. The winds tomorrow night still easterly 14-18 gusting to 30 and the low dropping down to around 22.
Friday morning, we are still experiencing the freezing rain, but the warmer air moving does work its way down to the surface so by mid to late morning the temperature rises to above freezing and the ice will begin to melt as the surface temperature begins to rise. The winds will be shifting, south to southwesterly 8-12 gusting to 18. With the afternoon high climbing up to near 46. We will still be rainy, but the ice event will be done!  Friday night we continue to be rainy with the low, only dropping to near 38.  I should mention that the Coast Range and areas over in the Portland to maybe Salem area, and especially over in the Gorge, will still be dealing with the freezing rain Friday.
Next, for the Christmas weekend, we look to stay cloudy and rainy, breezy at times, with highs in the mid 50s, and nighttime lows in the mid 40s. The rain continues into next week when our attention then transitions to watching for any hydrological issues from all the rain, as some models have hinted could be heavy at times into midweek.
So, obviously I would recommend minimizing outdoor activities and travel tomorrow and Friday morning as all surfaces will be very slick, and the fact that it will be so cold with frigid windchills. The roads will be very hazardous, and I expect law enforcement, ODOT, and local Public Works personnel to be very busy dealing with many, many issues.  Know that with freezing rain and with strong easterly winds, you also frequently see down trees and limbs on roads, and sometimes into powerlines causing power outages giving TPUD a workout as well.
The Weather Service stated this will be the coldest event experience since February 2014 so it has been a while since we have seen an event like this, and some newer folks may have never experienced it. My advice is to get ready today to be ready tomorrow and Friday, and stay safe!
Oh and Happy Winter Solsitice!