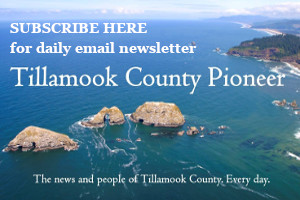 Friday, February 3, 2023
The ridge has moved east as a trough of low pressure moved northeastward across the area bringing some rain with a front today. This marked the beginning of a pattern change and now we can expect a series of systems to bring rain into the area, off and on, thru the first half of next week.
So, for tonight's weather, we can expect rainy and breezy conditions with the winds becoming southerly 15-20 gusting to 30, the low near 45. The southerly winds do warm things such that there are no snow concerns in the Coast Range.
Tomorrow the rain transitions over to scattered showers in the morning that become more widely scattered by tomorrow afternoon as a ridge of high pressure moves across, then tomorrow evening we see the rain return with the next approaching system. The winds tomorrow southerly 14-18 gusting to 25, highs near 55, the rain continues tomorrow night, winds southerly 10-15 gusting to 20, lows near 43.
The trough and associated front will finally move across on Sunday. It looks like the main energy from this system will be targeting northern California and southern Oregon, just bringing moderate rain and winds thru our area, so we can expect light to moderate rain with westerly winds 10-15 gusting to 20, highs near 50, lows near 42.
The trough continues to move eastward so the rain decreases during the day Monday but another approaching trough and its associated front pushes in more rain Monday night that persists thru Tuesday, highs near 51, lows near 42.
By Wednesday the snow level starts to fall again, down to around 2500', still with a chance of rain into Thursday, highs near 49, lows back down to near 36.