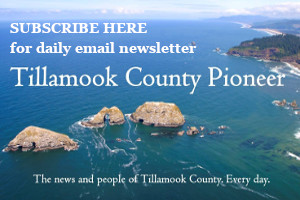 By Gordon McCraw, Meteorologist for the Tillamook County Pioneer
Friday, March 10, 2023
Well, the Coast Range saw a few more inches of snow overnight and this morning, thanks to the low pressure area that has moved inland. With the onshore flow, we will continue to see some light rain this evening and tonight. Surface winds will be southerly 4-8, the low near 37, the snow level up near 2200' though.
More light rain or rainshowers are likely tomorrow, Saturday, that ease in the afternoon and evening under mostly cloudy skies, winds becoming southerly 5-10 gusting to 20, highs near 50, mostly cloudy with the rain chance easing a little more tomorrow night, lows near 36, the snow level around 2300'.
By Sunday, there is another low pressure area dropping south, west of British Columbia but it fails to push far enough south to prevent another piece of subtropical moisture from moving towards the Pacific Northwest. This means the rain returns by Sunday afternoon, winds becoming southerly 8-12 gusting to 18, highs up near 52. Rainy Sunday night with southerly winds increasing to 20-25 gusting to 35 after midnight, lows fall to near 42.
By Monday, we have a weak atmospheric river over the region that will bring 1-2" of rain to the coast with maybe 2-3" in the Coast Range thru Monday night, winds southwesterly 15-20 gusting to 30, highs near 52, still breezy though the winds do ease some that night, lows near 37, the snow levels up near 2600'.
The low to the northwest moves inland to the north Tuesday and the precipitation turns more showery into Wednesday, a little cooler with highs near 49, lows near 36. The models are starting to hint of a ridge of high pressure moving in for Thursday that would scatter the showers more as it warms things up with the highs in the mid to upper 50s possible.
It is looking better for the rivers with the forecasted crest not as high as the previous forecasts offered. So, while the flooding chance is not zero, it remains pretty low.
And this is your final warning, Daylight Savings Time starts this Sunday, March 12th. We "Spring-Forward", officially at 2AM Sunday. Remember to set your clocks ahead as you go to bed Saturday or you will be arriving to church Sunday just as services are ending!