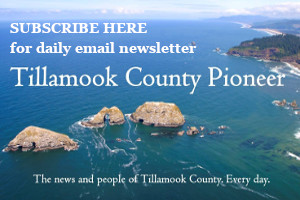 By Gordon McCraw, Meteorologist for the Tillamook County Pioneer
Monday, March 13, 2023
Well, the weak atmospheric river delivered to the north coastal areas between 1"-1.5" of rain which did push the rivers up some, but not significantly, unless you head down to the Southern Oregon coast. The associated cold front pushed across this morning and the snow levels that started out at around 5000' yesterday fell to 2500' this afternoon, lowered to near 1800' this evening.
The rain continues to ease this evening under mostly cloudy skies, the winds southwesterly 5-10, lows dropping to near 35, the snow level falling to near 1200' after midnight. This means the passes could see a dusting overnight from any remaining rain with patchy icing possible near the summit.
It looks like we see a more zonal flow setting up tomorrow, and we see partly sunny skies that push the snow level up to near 1800' again, but there is also a slight chance of rain still, winds becoming northwesterly 5-10, afternoon highs near 49. We see a weak disturbance riding in on the flow tomorrow night that gives us a chance of rain, or snow above 1500', winds westerly 5-10, lows near 37.
Wednesday looks partly sunny, the chance of rain slowly decreases as a ridge of high pressure starts to move in, winds westerly 5-10, highs near 49. With mostly clear skies Wednesday night, radiational cooling allows the low to drop to near 33.
With the ridge over the area Thursday, and with mostly sunny skies, the afternoon high warms, peaking up around 55. Still with those partly cloudy skies that night, the lows drop to near 39.
Sorry, but it looks like the rain will start to return Friday, though not all the models are in agreement. Some keep the ridge thru Saturday, but others bring a low pressure area and its associated front near the coast, bringing rain back into the area by Friday afternoon with rain likely Friday night. And so….either way, the weekend is looking wet with highs in the low 50s, lows in the low 40s.