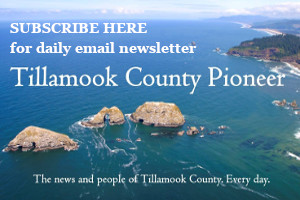 Tuesday, March 14, 2023
The satellite picture tells the weather story. A large and wet low pressure area is moving across central California as they continue to see more rain and winds bringing catastrophic flooding to some areas, in addition to the damaging winds.
Another low pressure area is seen off the coast of British Columbia moving southeastward towards the top of Vancouver Island. For us, being between systems, we still saw some clouds pushing across today but no rain though there was some showers moving towards the north that remained offshore.
So, for us this evening, between the remnants of the atmospheric river and a weak trough of low pressure, we have an increasing chance of showers tonight especially a little before thru a little after midnight as the trough moves across. Winds tonight westerly 5-10, lows near 37 so the snow level is up around 1800'.
The shower activity eases tomorrow under partly sunny skies, becoming more widely scattered in the afternoon, winds westerly 5-10, highs near 50, then high pressure starts to move in so tomorrow night looks mostly clear which will allow for radiational cooling again, down goes the low to near 33.
Thursday we see mostly sunny skies with winds becoming easterly 5-10, the high climbs up to near 58, then with mostly clear skies that night, the low drops to near 38.
Friday starts out nice with partly sunny skies, the high near 57, then the ridge moves east by Friday night ahead of an upper level trough that will spin up some low pressure systems that drag fronts thru so, we have a chance of rain Friday night into Saturday with rain likely Saturday night into Sunday, and again Monday. Highs remain around 52-57, lows 39-43.