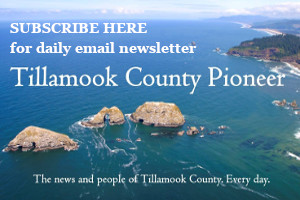 By Gordon McCraw, Meteorologist for the Tillamook County Pioneer
Wednesday, March 8, 2023
Another day and another low pressure area to talk about. A low pressure area west of British Columbia will drift southward thru tomorrow then become pretty much stationary west of Oregon. So, for tonight we see more scattered showers in the southerly flow, wind becoming southeasterly 10-15 gusting to 25, the low near 35.
With the low now to our west, we see an atmospheric river taking aim at northern California. The concern is that the low will be tapping into the moisture to its south and there will be line of heavier rain setting up on the east side of the low that will impact northern Oregon as the low drifts eastward tomorrow evening into Friday. The forecasting problem is exactly where the low will go.
So, Thursday's forecast is rainy and windy with southeasterly winds 15-20 gusting to 30, highs near 47, rainy tomorrow night, winds southeasterly 20-25 gusting to 35 but easing after midnight, lows near 36. Rainfall totals for Thursday around ½ to 1". The snow level will start out at around 1300' Thursday morning but rising to 2500' by Thursday night with the strong southerly wind flow.
The low moves ashore then northward Friday but we are still looking at more rain, still breezy, the winds southerly 14-18 gusting to 25, highs near 46. Rainy and breezy Friday night, lows near 38.
Things start to settle down for a while by Saturday evening, highs near 50, but then another atmospheric river starts to set up and push towards northwest Oregon/southwest Washington later that night so look for more moderate rain, along the coast starting late Saturday thru Sunday, becoming breezy also Sunday and Monday, high into the low 50s, lows climbing into the low 40s.
For now the greatest hydrological concerns appear to be to our south but as you know, this can, and likely will, change as the event gets closer. Our current river forecasts do show an increase in flow rates, but nothing alarming (for now)!