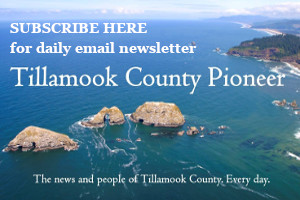 By Gordon McCraw, Meteorologist for the Tillamook County Pioneer
Thursday, March 9, 2023
Today we are watching the low pressure area west of our area and the moisture that is wrapping around the east side of it that is affecting the coast. The low is also giving us increased winds across the region. To the south, northern California is dealing with more rain impacts from an "atmospheric river" pushing in.
This evening's forecast is for continued rain with easterly winds this evening becoming southerly later tonight 14-18 gusting to 30. The snow level, which had climbed during the day, will again fall to around 1400' after midnight so the summit could see more snow after midnight. Tonight's low temperature near 35.
Tomorrow the low starts to lift northward then northeastward into Washington, and with an associated trough off our coast, tomorrow still looks rainy, winds westerly 8-12 gusting to 18, highs near 47, and the snow level lifts to near 2000' in the afternoon. The rain starts to ease tomorrow night as the low continues inland but some lighter rain is still likely, winds southerly 5-10, lows near 37. With the southerly flow the snow level climbs to near 2200' overnight.
Saturday still looks rainy though it could still be on the lighter side under mostly cloudy skies, winds still southerly 5-10, highs near 50, the snow level up near 2300'. This milder break is short though as the models continue to show another low pressure area developing further to the northwest than the previous one, so a developing atmospheric river will also be further north, so Sunday looks rainy and with the southwesterly flow and the warmer rain, highs climb to near 51, lows near 42. It does look like the heavier moisture areas will be in southern Oregon and north of the area in Washington into Monday when we see increased winds also. As I always say though, this can change before game time so stay tuned. Currently the river forecasts show increasing flow rates, but none are forecasting any flooding (at this time).
After this the associated front pushes thru and we are left with patchy rain Tuesday, the high near 49, lows near 38 with more rain likely Wednesday.
Another reminder, with all this weather fun, don't forget, Sunday is "Time-Change" day where we lose an hour of sleep. Remember to spring-forward and set your clocks ahead an hour at 2AM, or, if you are like me, change them as you are headed to bed Saturday night!