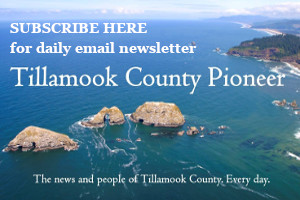 By Gordon McCraw, Meteorologist for the Tillamook County Pioneer
There is a large upper level low pressure area in the Gulf of Alaska that is keeping us under a southwesterly flow aloft. So, the dry conditions continue with little pattern change expected through the weekend.
With clear skies overnight, the lows last night dropped down to a chilly 37 at the airport. With little change in the synoptic picture, tonight should be another mostly clear night with light winds, the low tonight falls to around 40.
Tomorrow looks to be a sunny and breezy with the surface winds westerly 10-15 gusting to 25-30, the high near 63 then a slow warmup starts to happen with Saturday and Sunday looking sunny and 66, still on the breezy side, and with mostly clear, breezy nights, lows only down to near 46.
It looks like the upper level low in the Gulf of Alaska will finally push off into British Columbia Monday and we see a ridge of high pressure building and moving in from the west. This will bring us more sunny skies and kick the temperatures up some more. This means Monday looks sunny and breezy with the high climbing to near 72, still breezy Monday night, with mostly clear skies the low still only drops to near 50.
Tuesday looks to be the warmest day in the string, climbing up to near 73 here with temperatures in the valley climbing into the low 90s, the low that night down to near 49.
Again, we start to cool down some Wednesday under mostly sunny skies, the high only near 68, the low near 46.
The only threat of precipitation I can find over the next 7 days is maybe a shower chance to the east over the Cascades.